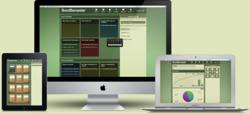 These partnerships represent our commitment to providing everyone on the planet with access to a world-class education.
Bethlehem, PA (PRWEB) March 14, 2012
GoodSemester, a new open platform for learning, has just announced a partnership with the 20 Million Minds Foundation, which has worked to produced open source textbooks for millions of college students along with its partners the the Bill and Melinda Gates Foundation, the Maxfield Foundation, and the Hewlett Foundation.
To begin this effort, these four foundations are beginning to populate GoodSemester with high-quality, free and open learning materials and textbooks that can be copied, modified, and shared all from within GoodSemester. From GoodSemester's blog:
"These partnerships represent our commitment to fulfilling our vision of providing everyone on the planet with access to a world-class education. We think these partnerships will help us get that done, and fast. GoodSemester is about making learning available everywhere - whether you're a public or private institution, an open learning group or a small tutoring business, GoodSemester is a unified platform for all of these learning efforts to coexist, making it easy to do all your learning in one place."
GoodSemester is also providing the tools for anyone in the world to share their own open notes and learning materials for free. Notes can be created, shared, copied, and remixed under Creative Commons licenses through GoodSemester's innovative learning platform, and users can browse through new notes and study materials created by thousands of note sharers and remixers on GoodSemester's Global Notes page.
These partnerships represent a major step forward for open education. For the first time, students and professors can easily find, utilize, and even remix free and open educational materials, then integrate them directly with their courses, all inside of a single service.
Starting today, GoodSemester is open and available to anyone in the world as an open platform to teach courses, take notes, do grading, create private study groups, and get academic work done - all for free.
You can learn more about these partnerships and updates on GoodSemester's blog, and sign up for GoodSemester at https://www.goodsemester.com/.