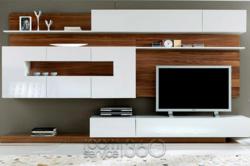 With each new wall unit Milmueble releases, they set the standard for modern wall media center organization. The Gallery 03 is no exception.
(PRWEB) March 20, 2012
Pennsylvania-based modern furniture store, room service 360°, has recently started providing the, admittedly stunning, Gallery 03 Contemporary European Designer Wall Unit from Spanish furniture design house Milmueble and sales of the unit are incredible. The wall unit, which retails for less than $5,500, features a nook for a television framed by sleek cabinetry, storage and some of the most beautiful materials in modern furniture manufacturing.
This most recent of wall units to arrive from Spain offers clean lines and beautiful finishes to compliment its asymmetrical contemporary design. The Gallery 03 Contemporary European Designer Wall Unit features seven cabinets with push-pull opening mechanisms on the doors so that you can hide set top boxes, home theater pc's, blu-ray disc players, video game consoles and whatever other digital entertainment you have that doesn't necessarily need to be seen. In addition to the cabinets, there is shelving integrated into the piece as well. The shelves are perfect for displaying those things that you do want to see such as pictures, pieces of art, figurines or statues.
The Gallery 03 is available in a number of different colour and accent finishes, each of which is more striking than the last and truly give you the opportunity to pick the perfect wall unit for your living room. The stunning European design is sure to impress anybody who sets eyes upon and instill at least a little bit of jealousy.
Since being put up for sale on room service 360°, the wall unit has climbed quickly to the top of the bestsellers list and it's plain to see why. The room service 360° warehouse does currently have the high-gloss white lacquer with american walnut accents unit in stock, but with the attention that they've been garnering, the ones in America won't last long. While the current stock is going quick, room service 360° realizes that demand for this beautiful new wall unit is staggering and they have multiple units on their way from Spain as well as the ability to take special orders.
The unit measures 130" wide by 22" deep and, frankly, would look great on any wall. Anybody who has an appreciation for modern furniture will definitely be able to value what the Gallery 03 Modern Wall Unit from Milmueble does to take modern wall units to the next level.