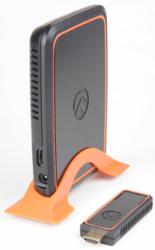 Atlona's LinkCast™ Wireless HDMI Extension system received a CES Innovations 2012 Design and Engineering Honoree Award from the Consumer Electronics Association in the Multi-room Audio/Video product category
(PRWEB) March 14, 2012
Many consumer electronics manufacturers are trying to keep up with growing demand for wireless convenience. One of them, Atlona Technologies, a global manufacturer for digital connectivity solutions. At this year's Consumer Electronics Show in Las Vegas, Nevada it announced a release of a new Wireless HDMI HD audio/video system that is capable of transmitting HD signal for up to 40 feet. It allows laptop, desktop or tablet computer users, gamers and home theater enthusiasts to connect up to five HDMI-based devices to projector or HDTV wirelessly. The LinkCast™ Wireless HDMI system consists of one A/V base station AT-LINKCASTAV, and one LinkCast™ System Expander AT-LINKCAST-HTX. LinkCast™ System Expander plugs into any device that has HDMI and USB outputs, while the LinkCast™ A/V base station connects to the projector or HDTV's HDMI input. Additional LinkCast™ System Expanders are sold separately and allow users to connect up to four more devices wirelessly. They are conveniently powered by a standard USB connection that eliminates the need to use an additional power supply. The remote control enables an easy switching between all the devices connected to the LinkCast™ system.
1080p resolutions are fully supported by this device without delays. Also, users can enjoy a full effect of any 3D system without jumping or signal loss. It has been tested with Console games and PC and proves no latency. Gamers can enjoy the crystal clear picture on their big screen TVs, while playing the best Arcade Games, First Person Shooters, and Massively Multiplayer Online RPGs.
The Atlona's new LinkCast™ Wireless audio/video HDMI system has the following specifications:

Bandwidth Video: 3Gbps
Audio: 18Mbps Input Ports: 1 USB (for updating firmware)
Output Ports: 1 HDMI (female type)
Resolution outputs Video: up to 1080p
Vesa: up to 1600x1200
Dimensions: (HxWxD) 5.9x4.2x.9 (inch) or 152x104.7x23 (mm)
Weight: 0.29lbs or 0.130kg
Temperature Operating: 50°F to 95°F or 10°C to 35°C
Storage: -4°F to 158°F or -20°C to 70°C
Power consumption: 7.5W
Atlona is pleased to announce that LinkCast™ Wireless HDMI Extension system received a CES Innovations 2012 Design and Engineering Honoree Award from the Consumer Electronics Association in the Multi-room Audio/Video product category. This prestigious Innovations Design and Engineering Awards, since 1976, has given consumer technology manufacturers and developers an opportunity to have their latest products judged by a preeminent panel of independent industrial designers, independent engineers and members of the trade press.
As of today, the LinkCast™ Wireless HDMI Extension system is available for sale through BZB Express, one of the largest distributors of Atlona Technologies in North America, for MSRP of $299.99
Company Overview:
BZB Express is one of the fastest growing nationwide distributors of Audio, Video and Broadcast Equipment. Established in 2005, BZB Express became one of the leading distributors for Atlona Technologies™, Gefen™, Kramer Electronics™, HR™, Shinybow™ and many other AV companies.
Whether you are a regular customer, small to medium-sized business, reseller , or anyone desiring competitive pricing, reliable service and efficient delivery, you'll enjoy shopping with us. Our headquarter is located in San Jose, California.
More information about BZB Express is available at http://www.bzbexpress.com.