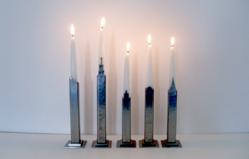 New York, NY (PRWEB) March 23, 2012
With her exquisitely crafted designs, artist and fine jeweler Mia Fonssagrives Solow creates beautiful reflections of nature, fantasy, and glamorous cityscapes. These bold and sophisticated works of art will be the focus of an elegant shop at the Museum of the City of New York.
The shop, 'Mia Fonssagrives Solow Celebrates New York,' will introduce new pieces by Solow, designed exclusively for the City Museum, along with her signature jewelry collection.
Steel skyscraper vases and candlesticks, silk scarves, lamps, tunics, a hand-carved wood puzzle and more were all inspired by the sleek Manhattan skyline, the Museum's Fifth Avenue location overlooking Central Park, and re-discovering and re-experiencing the city's iconic grid in the current exhibition The Greatest Grid: The Master Plan of Manhattan, 1811-2011. Providing the creative spark, New York City appears in spectacular NYC skyline cuffs (in silver and vermeil), and steel vases and candlesticks fashioned after landmark skyscrapers. And solely for the Museum, the stylish tunic, tote bag and scarf capture the drama of Manhattan's architecture.
"[The Museum] celebrates New York the same way I do, and the people that live here. I knew it had to be about New York," said Solow of the shop's concept. "The Museum absolutely inspired me, and just the name –The Museum of the City of New York. It's all I've been thinking about."
Meet the Artist, Mia Fonssagrives Solow: April 3, from 1:00 pm to 3:30 pm.
Solow, who splits her time between Manhattan, Greenwich and East Hampton, is a practicing artist who has shown her sculpture, paintings, collages and fine jewelry for decades. Her jewelry, art, and fashion designs have been featured in ELLE, InStyle, The Herald Tribune, and W, among many other publications.
The Museum of the City of New York celebrates and interprets the city, educating the public about its distinctive character. Founded in 1923 as a private, non-profit corporation, the Museum connects the past, present and future of the city. The Museum has anchored its East Harlem neighborhood and welcomed visitors to its landmark home on Fifth Avenue's Museum Mile since 1932.