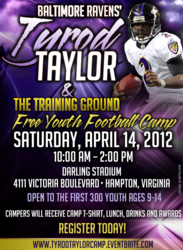 I want my camp to be an additional part of the support system for young Hampton athletes
Hampton, Virginia (PRWEB) March 14, 2012
Tyrod Taylor, the dual-threat quarterback for the Baltimore Ravens, will host his first annual free football camp on April 14th for youth, ages 9-14 at Darling Stadium in Hampton in conjunction with The Training Ground. The Hampton native has enlisted the support of his NFL colleagues and professional trainers to work with camp attendees.
Taylor's goal is to give campers a solid foundation of the game through drills, agility training and core fundamentals, as well as teach offensive and defensive basics specific to a range of positions.
"I have grown and learned so much in my first season in the NFL," said Taylor, "I definitely want to acknowledge and give back to the community that helped me get to this point in my career. I want my camp to be an additional part of the support system for young Hampton athletes."
In addition to the on-field instruction, the campers will participate in the "Chalk Talks", the mentoring segment of the camp. The participating NFL athletes will speak openly to the campers about their lives and journeys to the NFL. They will address making good decisions, the importance of education and avoiding peer pressure in order to reach their goals in life.
Initial response to the camp has been enthusiastic and registration is filling up quickly. There is no cost for the camp and registration is first come first serve at http://tyrodtaylorcamp.eventbrite.com/ . Parents or guardians will need to sign a camper information form and release for each camper. The camp will provide an official camp T-shirt, lunch, beverages and awards.
For more information on sponsorship opportunities, contact Andrea Williams at (770) 901-8800.