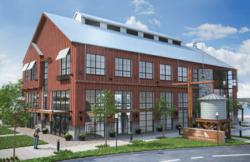 Today highway, rail and water meet in Kalama at some of the most efficient transportation networks in the country to serve industrial and manufacturing companies.
Kalama, WA (PRWEB) March 14, 2012
Local namesake, John Kalama, would be proud to pull off his boots and set awhile in the proposed Kalama Interpretive Center, a new facility that will celebrate Kalama's unique place in Pacific Northwest history as a transportation and commercial hub. The center will be designed to replicate a traditional waterfront warehouse of the 1800s. Cultural artifacts, memorabilia and replicas of the past will pose life-sized within its walls and bring history alive for its visitors.
Just off Interstate 5, the Columbia River and a major rail line—the Port of Kalama has earmarked land for an Interpretive Center, which promises to further develop Kalama as a destination for day-trippers and tourists. Its contents will tell stories of how the Cowlitz Tribe fished and traded before the arrival of European settlers. The Columbia River attracted a steady stream of settlers like Hawaiian John Kalama who arrived in Kalama in 1837 to act as a middleman between local Native Americans and the Hudson Bay Company. In 1870, the Irish and Chinese arrived to work on the railroad. The Scandinavians with interests in fishing and logging settled in Kalama as well.
Progress continued. Today highway, rail and water meet in Kalama at some of the most efficient transportation networks in the country. Interpretive Center exhibits describe how the advances in technology have changed transportation and resulted in the movement of different commodities at the port.
Exhibits will track Kalama's first inhabitants, the Cowlitz Tribe and the settlers that followed over the next 100 plus years including renowned Oregon Trail writer Ezra Meeker. Displays will illustrate how Kalama's particular landscape gave birth to a booming transportation system impacting the area both culturally and economically and ultimately transforming the area into its position today as an internationally-connected community. The Kalama Interpretive Center is currently in the planning and design phase.
"Kalama has such a rich history and the Interpretive Center will illuminate how really distinctive our past is and how our roots have created what we are today," said Randy Sweet, Commission President of the Port of Kalama. "We expect the Interpretive Center to further develop Kalama as a destination as the area is already renowned for its commerce, extensive antique malls and shops, the largest totem pole in the world and our gorgeous riverfront parkways. Not to mention, Kalama's natural beauty, the rivers and mountains which are a huge draw for outdoor enthusiasts."
The Kalama Interpretive Center will not only tell the story of how Kalama was settled, but treat visitors to artful display models and replicas including:

Handcrafted canoe carved from a cedar log by Cowlitz artisan Robert Harjeu
Prairie Schooner covered wagon, like the one used by Ezra Meeker to cross the Oregon Trail
Railroad ferry boat, Tacoma, the second largest in the world in its day
Actual 1929 Model AA Ford Truck
Great Northern Pacific Railroad
Interpretive materials featuring the area's first settlers and transportation technology of the day
Today, fishing continues to make Kalama a destination; the Columbia River and Kalama Rivers are teaming with Chinook salmon, steelhead trout and sturgeon. Hikers find perfect trails for their sport as well. The Port of Kalama makes the most of Kalama's exceptional location; parks, marina and a boat ramp line the eastern bank of the Columbia River. In addition, Kalama's Port boasts a new industrial park and acres of shovel-ready industrial property for manufacturing and warehousing businesses.
Kalama's city life includes twelve restaurants and a flourishing antiques mall with roots dating back decades. Tourists from all over the region are known to seek their treasures in Kalama.
With the completion of the Interpretive Center, the Port underscores that much of what made Kalama replete and thriving in the past, still holds true today. Kalama remains an ideal place to do business just 30 minutes from international air travel in Portland, Oregon.
About Port of Kalama – Where rail and water meet:
The Port of Kalama is located in Southwest Washington on the Columbia River and immediately off of Interstate Highway 5. The port exists to induce capital investment in an environmentally responsible manner to create jobs and to enhance public recreational opportunities. Port of Kalama's industrial area includes five miles of riverfront property adjacent to the 43' federally-maintained deep draft navigation channel of the Columbia River. The Port is served by the Burlington Northern/Santa Fe and Union Pacific railroads. There are over 20 industries located at the Port of Kalama, employing over 830 people. Port of Kalama offers all the superior facilities businesses need to thrive, and an unsurpassed quality of life. The port offers shovel ready sites, a new Industrial Park, state of the art Marine Terminals and transportation accessibility to rail and highway all just a 30 minute drive to the Portland International Airport. Port of Kalama also offers high-bandwidth communications, with dual access fiber-optic service to Seattle and Portland. Properties currently available at the port for businesses wishing to expand and thrive: http://www.showcase.com/lnewman@portofkalama.com. Visit http://portofkalama.com/industrial_property.