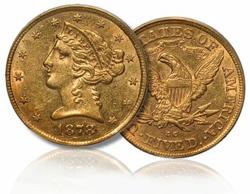 Cincinnati, Ohio (PRWEB) March 13, 2012
CoinDealers.org now contains details of nine Cincinnati coin dealers in its interactive database of shops in the United States. Each listing contains detailed information on each coin shop in Cincinnati including address, telephone number and contact information. The site's interactive maps can be used to get driving directions from anywhere in Ohio. Dealers can also be found in Cincinnati and the surrounding area using CoinDealers.org's powerful proximity search. Users can enter a ZIP code and select a radius in miles to search. Results are ordered from closest to farthest dealer from the ZIP code entered and the user is also informed of the distance in miles. There are 31 coin dealers within an hour's drive from Cincinnati.
The site also contains a comprehensive list of Ohio coin shows, each listing featuring the date, venue, contact information and other details of the coin show. As with coin dealers, directions to the coin show in Ohio from any part of the country are available.
For the convenience of coin enthusiasts, CoinDealers.org informs users of the price of gold updated every fifteen seconds, 24 hours a day.