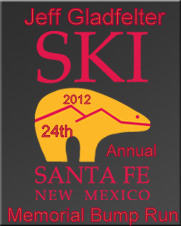 Santa Fe, New Mexico (PRWEB) March 13, 2012
Ski Santa Fe, Hutton Broadcasting and SantaFe.com host the 25th Annual Jeff Gladfelter Memorial Bump Run. Registration for the event starts at 8:30 a.m. in the La Casa Café inside the Ski Santa Fe ski lodge on Saturday, March 31. The event starts at 12 p.m. Registration fee for the event is $15 and entrants are required to purchase a lift ticket to take part in the event. The bump run event takes place on the Ski Santa Fe ski run called Slalom, which is located in a line of sight and just east of the outdoor deck of Totemoff's Bar and Grill, the mountain's midway point, making it a perfect run for viewing this fun event.
The Jeff Gladfelter Memorial Bump Run was created to memorialize and honor local ski legend and outdoor photographer Jeff Gladfelter. In and around Santa Fe Jeff was known for his spectacular skiing, epic snow caves at Ski Santa Fe that he and his friends made meals in and slept in at night, as well as beautiful outdoor winter and summer time mountain photography. When Jeff and his friends roamed the ski runs at Ski Santa Fe back in the day, on the nights when there was a big snow drop that brought a ton of powder to the area, he and his pals would come out in the morning from their one night of hibernation in one of their legendary snow caves and get first tracks on the fresh powder before the ski patrol or any other skiers had made it up the mountain.
About Ski Santa Fe
Ski Santa Fe, located 16 miles from downtown Santa Fe, boasts a base area elevation of 10,350 feet above sea level. The ski area features seven ski lifts, including one quad chair lift, two triple chair lifts, two double chair lifts and two conveyor lifts. The mountain has a 12,075-foot summit, 1,725 vertical feet of skiing, 660 acres of terrain and 77 ski trails, with the longest run measuring three miles. Ski Santa Fe services and amenities include a PSIA-certified ski school, the Chipmunk Corner Children's Center, the new "The Bone Yard" freestyle terrain park and Children's Adventure Land. Ski Santa Fe receives an average of 225 inches of snowfall and has snowmaking equipment covering 50 percent of the mountain. The ski area is located within the Santa Fe National Forest.
About SantaFe.com
SantaFe.com provides Santa Fe locals and visitors alike the most current interactive platform for events, music, arts, business, dining and lifestyle. SantaFe.com is a division of Hutton Broadcasting, located at 2502 C. Camino Entrada, Santa Fe, NM 87507
Contact Information:
Scott Hutton
SantaFe.com / Hutton Broadcasting
http://www.santafe.com