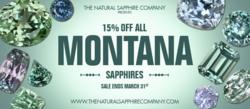 New York, New York (PRWEB) March 14, 2012
The Natural Sapphire Company, the largest online retailer of natural, untreated sapphires and sapphire jewelry has launched a new spring sale campaign for Montana sapphires. The Montana sapphire sale is available though the company's website, http://www.TheNaturalSapphireCompany.com, until the end of March 2012.
Although sapphires have been found in several locations in the United States, including Alaska, Alabama, Colorado, Georgia, Idaho, Indiana, Iowa, New Jersey, North Carolina, Pennsylvania, and Washington, the most famous of these locations is the state of Montana. Sapphire production in Montana was, at least initially, a byproduct of the gold rushes of the 1860s. Although sapphires can be found throughout Montana, the majority of the finds can be attributed to four major locales: Yogo Gulch, Rock Creek, Dry Cottonwood Creek, and the gravel bars along the Missouri River northeast of Helena.
"Montana sapphires have very interesting colors. They're often found in a greenish blue tone, but other colors from purple to light blue do occur. Because of their extraordinary colors, each Montana sapphire is one of a kind," said Michael Arnstein, CEO of The Natural Sapphire Company. "They're truly stunning stones and a lot of our customers are interested in sapphires that were found right here in the country."
The Natural Sapphire Company stocks a wide range of Montana sapphires in many sizes and shapes including rounds, ovals, emeralds, cushions, and pears. Blue-green Montana sapphires lend themselves especially well to this year's spring jewelry and fashion trends.
Birthdays, anniversaries, and spring engagements are all perfect opportunities to present your loved one with a natural sapphire. In addition to their loose sapphires, sapphire pairs, and sapphire jewelry, The Natural Sapphire Company also offers a new collection of affordably priced silver sapphire jewelry.
The Natural Sapphire Company invites its customers to enjoy the Montana Sapphire Sale discounts and receive 15% off all Montana sapphires through the end of March 2012.
About The Natural Sapphire Company:
The Natural Sapphire Company specializes in mining, sourcing, and selling natural untreated sapphires. Founded in 1939 by Walter Arnstein, the company is now a third-generation family business. The Natural Sapphire Company supplies sapphires to retailers, jewelry manufacturers, and private clientele. The company launched its Internet retail section in 1999 and has since become a popular e-commerce website. The Natural Sapphire Company is known to have the world's largest collection of natural, untreated loose sapphires, as well as offering for purchase a one-of-a-kind, 69.35 carat natural oval blue sapphire.