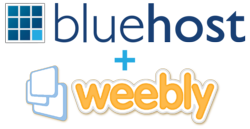 "Weebly will be a great option for many of our users to get their site up and running quickly."
Provo, UT (PRWEB) March 27, 2012
Bluehost today announced the availability of a new free web application for its users that makes it easy to quickly create websites. The new Weebly Site Builder provides a drag and drop interface that will be ideal for many of its users to create their websites and blogs.
In addition to WordPress, the new Weebly Site Builder will be the recommended tool for customers without significant technical knowledge to create websites. Weebly includes over 100 built-in templates that users can choose from. Users can drag layout modules into their website design including text, images, video, galleries and more. The new website creation tool includes built-in forms support, an image editor, blog support and basic site tracking tools.
"We are delighted to be working with Weebly to introduce the new Site Builder," said Daniel Handy, CEO of Bluehost. "One of the most requested new features from our customers is to provide them with tools that simplify website creation. Weebly will be a great option for many of our users to get their site up and running quickly."
To help users take advantage of the new web builder, Bluehost has created a series of videos explaining how the Weebly Website Builder works. In the series, a Bluehost representative demonstrates, step-by-step, the building of a full, multi-page website. These videos are available on Bluehost's YouTube channel.
"We work extremely hard to make the easiest and most powerful website building experience," said David Rusenko, CEO of Weebly. "We're very happy to bring this experience to a greater audience through our partnership with Bluehost."
Two editions of Weebly are available. The Basic edition, which is free to all Bluehost customers, includes support for six pages, YouTube and Flash video support, contact forms, photo galleries, blogs, support for a mobile-optimized version of the website, an RSS feed reader and basic search engine optimization. The Pro upgrade adds support for unlimited pages, the ability to password protect individual pages or an entire site, custom Favicons, embedded documents or files to download, the ability to edit template HTML/CSS or create themes from scratch. The Pro version is available for $8.95 per month on an annual term.
Additionally, an eCommerce option is available for both Basic and Pro editions. The eCommerce add-on provides shopping cart support for PayPal and Google Checkout. Product information elements can be added to any page. The eCommerce option is available for $2.95 per month on an annual term.
The Weebly Site Builder is available for customer installation immediately.
About Bluehost
Bluehost is a leading provider of shared hosting services and is known for its industry-leading reliability and U.S.-based customer support. Bluehost produces exclusive technology designed specifically for shared hosting and reseller hosting. The company also owns and operates its own data center, domain registrar and nationwide fiber network. For more information, visit http://www.bluehost.com or call toll free (888) 401-HOST.