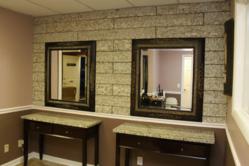 Green Stone Products will add real value to any property.
Nashville, TN (PRWEB) March 15, 2012
The Tomahawk is designed to transform any natural stone left over (waste) material generated at Counter top Stone Fabricators into a sought after recycled building product.
The unlimited product range can be utilized for all interior and exterior, wall and floor cladding for residential and commercial projects.
Natural stone and especially granite consist over the following characteristics:
Aesthetical pleasing
Everlasting
Virtually no maintenance
Adding Value to any property
One of the most cost effective cladding materials over time.
Recycled stone provides a new and fresh look and multiple finishes at a portion of the price.
The concept and idea seems simple, but simple ideas are often the most brilliant. By finding additional ways to reduce waste, such as using the Tomahawk to repurpose what would inevitably end up in the landfills, we can further slow the wear and tear on the planet.
Tomahawk video:
http://www.braxton-bragg.com/index.cfm/m/1/fuseaction/store7catalog.level/bc/0,8454,9462/