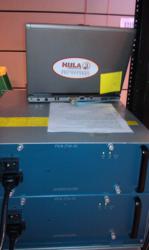 Hula Networks knowledgeable staff and multiple OEM-accredited certifications allows us a better understanding of the existing OEM product lines in the market and how we can design operable products in the network.
Mountain View, CA (PRWEB) March 20, 2012
"No network vendor has 'good enough' capabilities across all the network functions required for a distributed large enterprise," according to a Gartner Research study published in 2011. "Organizations are rapidly embracing a multi-vendor, best-of-breed approach to building enterprise networks."
Organizations on the cutting edge of product design and development—in many different operating environments—require networks that support fast, reliable, and high-performance computing. Efficient development requires a dynamic networking environment that supports proof of concept, quality assurance, technical assistance, and interoperability testing with rapid turnaround of results and data—and limited downtime.
Hula Networks current client base includes an OEM-based company in the Internet Protocol (IP) data network arena that uses OEM manufacturers to simulate and analyze real-world scenarios, and troubleshoot operability issues early in the design process in order to bring quality and reliable products to market.
By having the ability and resources to provide reliable and cost effective network test bed equipment, Hula Networks has helped its client save time and money, enhance quality, and foster innovation for its products and future developments.
The network infrastructure market has evolved rapidly during the past three years—from single-vendor to solutions-driven architectures that increasingly demand multiple vendors to build custom networking environments.
Research also shows that there is no operational advantage to maintaining a single-vendor approach. Instead, organizations are building network solutions that meet unique business requirements, support agile workflows, preserve resources, and minimize cost. Hula Networks is leading the industry with true value-added networking products for OEM-based operations—from product development to customer installation.
Hula's client depends on a strong partnership that can provide immediate and reliable IT infrastructure support for its proof of concept, TACL, interoperability, and quality assurance labs. High-quality service and trusted solutions are needed, for example, to deliver accurate test results and run real-world network scenarios that an OEM customer might encounter. Hula Networks Service and best-in-class lab network equipment from leading OEM providers helps expedite and resolve any trouble shooting issues in product design and development. The test results allow Hula's client proper modifications in design and an educational log for their customer applications. An expanding knowledge base of real-world network scenarios is continuing to evolve in their QA and design group.
"Hula Networks has provided us an equipment upgrade program where we apply trade-in values from the sale of retired lab assets to the purchase of more useful, up-to-date lab equipment for our current projects. This has been a tremendous help in our product development efforts while keeping budgets in line," said the Procurement Manager for Hula's client.
As a world-class value-added reseller of both new and pre-owned products from leading OEMs along with a high level of certified engineers on staff, Hula Networks provides complete network design with pre- and post-sales support. Hula Networks has the specialized knowledge and the credentials its client was seeking. Additionally, Hula Networks engineers understand the best practices for POC and QA network scenarios and test analyses, including how to integrate all leading OEM technologies together in one lab environment—from Wide Area Network (WAN) acceleration to VoIP and from security to core routing and switching.
Hula Networks conducts meticulous analyses of its client's needs and existing lab infrastructure and delivers complete solutions for design testing, which consider innovative technologies and cost reduction benefits. Hula provides detailed design knowledge and shows its client how it could increase design performance and stability across multiple networks and scenarios.
Hula Networks designs multiple data centers and network POC solutions specifically to meet its clients needs relative to its customer base, helping expedite sales and marketing strategies. In addition, the Hula Networks Professional Services team performs a pre-sales consultation, designs the network simulation, and assists with the lab implementation from "stacking and racking" to actual trouble shooting procedures. Hula's motto is to "under promise and over deliver always."
"Hula Networks knowledgeable staff and multiple OEM-accredited certifications allows us a better understanding of the existing OEM product lines in the market and how we can design operable products in the network," said the Solutions Architect for Hula's client.
Hula's client has realized quick results from the POC, TACL, Interoperability, and Quality Assurance lab scenarios, designed and implemented by Hula Networks. It now enjoys higher level of market awareness, design and the ability to truly test mission critical network design and troubleshooting—all with a lower total cost due to high level of service and reliable, efficient products and programs. Hula Networks has designed a custom lab purchase and trade-in program specifically designed to meet its client's needs.
Hula's client also has higher levels of network record logs determining which network scenarios operate best and troubleshooting records for their team in the field. This has helped prevent disruption of business evaluation sales cycles and their knowledge of customer's critical applications and services, and save costs and time and in being ready for real world network deployments.
Its client now has a more responsive design engineering team and is launching products to market with enhanced performance, scalability, and reliability. As it moves its various products through the manufacturing lifecycle, its client will be able to do more with less capital expenditure in network test equipment, save R&D expenses and increase efficiencies in their overall product line.
About Hula Networks, Inc.
Hula Networks, is a leading provider of true end-to-end Pure IP and Unified Communications solutions. At the forefront of cutting edge technology, Hula Networks' team of direct OEM certified engineers are dedicated to providing unmatched quality, cost savings, and service to a growing base of thousands of satisfied customers worldwide. For more information, visit hulanetworks.com