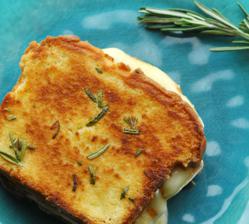 Madison, WI (PRWEB) March 14, 2012
When grilled cheese experts get creative in the kitchen, the possibilities are endless. Whether they're chefs or bloggers, you know the result will be something toasty, cheesy and good. April is Grilled Cheese Month—the perfect time to try one of these unique creations featuring Wisconsin Cheese.

The MacKenzie – Created by Grilled Cheese Social blogger MacKenzie Smith, this sandwich is the perfect blend of sweet and savory. Sliced pound cake serves as the bread, topped with rosemary butter and filled with Wisconsin Brie and fig preserves.
The Maliblue™ – The brain child of Chef Troy Davis, owner of Melthouse Bistro in Milwaukee, this showstopper is classic Club sandwich meets Cobb salad meets grilled cheese. Wisconsin Blue Cheese is the star, alongside smoked turkey breast, smoked bacon, avocado, hard boiled egg, roasted garlic mayo, tomatoes and romaine lettuce on toasted French bread.
The Monroe – Chedd's Gourmet Grilled Cheese has locations in Austin and Sioux Falls, S.D., but the flavors of this sandwich are classic Wisconsin. Luckily, the company recently opened a location in Eau Claire, Wis. This grilled cheese features Wisconsin Colby and Mild Brick on sourdough bread.
Budding grilled cheese experts are encouraged to enter The 2012 Grilled Cheese Academy Recipe Contest. Additional details about the contest will be available at GrilledCheeseAcademy.com beginning April 1, 2012.
Find additional grilled cheese recipes at EatWisconsinCheese.com and GrilledCheeseAcademy.com.
The MacKenzie
By MacKenzie Smith, Grilled Cheese Social
Makes 1 sandwich
Ingredients:
2 thin slices pound cake
3 slices (about 3 ounces) Wisconsin Brie Cheese
1/2 tablespoon fig preserves
1 tablespoon butter
1 small rosemary sprig, chopped
Directions:
Top one slice pound cake with slice of Brie. Spread fig preserves on one side of the other piece of pound cake.
Melt butter in skillet over medium heat and sprinkle in chopped rosemary. Continue to heat butter and rosemary for about a minute until leaves start to soften up and the rosemary flavor starts to infuse the butter.
Place both pieces of pound cake in skillet (cheese and fig spread sides up). Cook for 3-4 minutes, until pound cake begins to brown. Gently flip one piece of pound cake on top of the other, sandwiching the Brie and fig preserves inside. Remove from skillet and serve immediately.
The Maliblue™
By Chef Troy Davis, Melthouse Bistro
Makes 1 Sandwich
Ingredients:
1/4 teaspoon minced roasted garlic
2 tablespoons mayonnaise
1 tablespoon unsalted butter, melted
2 slices thick-sliced Country French bread
2 ounces (1/3 cup) Wisconsin Blue Cheese, crumbled
1 ounce Romaine lettuce
2 slices beefsteak tomatoes
2 ounces smoked turkey breast
2 slices thick-cut smoked bacon, fully cooked and broken into four pieces
1 hard-boiled egg, crumbled
1/4 medium avocado, cut into 3 thin slices
Directions:
To make the roasted garlic mayonnaise, combine minced roasted garlic with mayonnaise. Mix well.
Heat large skillet over medium heat. Brush melted butter on one side of each bread slice. Place both slices butter-side down, in skillet and top each slice of bread with 1 ounce of crumbled Blue Cheese. Heat until bread is golden brown on bottom and the cheese begins to soften and melt.
Spread roasted garlic mayo on one slice of bread overtop of melted Blue Cheese. Then top with the lettuce, tomato, smoked turkey breast, bacon, hard-boiled egg crumbles and avocado slices. Top sandwich with the other slice of bread, butter-side up.
The Monroe
By Dirk Bruley, Chedd's Gourmet Grilled Cheese
Makes 1 sandwich
Ingredients:
1 tablespoon butter
2 slices of sourdough bread
2 slices (about 2 ounces) Wisconsin Mild Brick Cheese*
2 slices (about 2 ounces) Wisconsin Colby Cheese*
Directions:
Butter one side of both slices of bread. Layer 4 slices of cheese on non-buttered side of one piece of bread, alternating types. Make sure to cover coast to coast, and don't just lump the cheese in the middle. Top cheese with remaining slice of bread – butter side out. Cut sandwich in half, or diagonal if that is the way you roll.
Grill for 2-3 minutes per side, or 3 minutes total if using sandwich press; make sure cheese is oozing out the sides. Let sandwich cool for a minute – and then take a bite and enjoy!