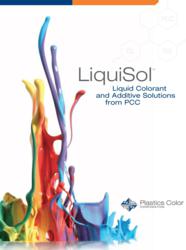 PCC has been developing LiquiSol as a turnkey system to make it easier for customers to integrate liquid colorants and additives into their operations
Calumet City, IL (PRWEB) March 15, 2012
PCC (Plastics Color Corporation), a leading supplier of color concentrates, specialty compounds and additive masterbatches for the plastics industry, today announced the launch of its new LiquiSol™ color and additive system for polymers. Vice President of Business Development Tim Workman made the announcement stating that "LiquiSol is not a product. It's a full system designed to integrate liquid into our customers' operation, not as a replacement to color resin concentrates, but as alternatives for specific manufacturing processes."
PCC claims there are often advantages of liquid over solid concentrates including lower let down ratios, better thermal stability, reduced storage space requirements and versatility in formulations.
The LiquiSol system includes:

A complete analysis of a manufacturing center by PCC's liquid experts, including a cost-benefit analysis
The latest in liquid color technology including pumps, vessels, storage and supply systems
Training for production staffs to ensure immediate benefit
Customized products that include colors, multiple additive dispersions, functional and performance enhancers
"Since we manufacture and distribute both liquid and color concentrates and additives, we have no bias either way," added Workman. "We just want to help our customers understand liquid and decide which is best for their particular situation from a cost and use perspective. Our nationwide sales team is well-versed in all manufacturing and process techniques so they're uniquely qualified to help our customers review their current operations and identify advantages liquid may offer."
Last August, PCC announced the acquisition of Polysource LLC, a liquid and additives company in Phoenix, Arizona. The newly named Plastics Distribution Corporation is managed by Craig Degnaro. Since acquiring Polysource, PCC has been developing LiquiSol as a turnkey system to make it easier for customers to integrate liquid colorants and additives into their operations. The company recently constructed a liquid color and additive production line at their Sun Valley, California plant, in order to fulfill demand for LiquiSol products and services. PCC also manufactures and distributes liquid color through its Nanjing, China facility.
About Plastics Color Corporation
Plastics Color Corporation (PCC), headquartered in Calumet City, Ill., is a global provider of colorants, compounds, additive masterbatches and custom polymer solutions for an extensive range of markets including pharmaceuticals, medical, consumer goods and others. PCC supports virtually every type of manufacturing process and material. We engage our customers from concept to commercialization and help them develop new cutting-edge products that lead the market. PCC has more than 40 years experience in the polymer industry and operates fully-equipped product development laboratories and manufacturing facilities in California, Illinois, North Carolina and Nanjing, China. PCC's Illinois and North Carolina labs are certified by the American Association for Laboratory Accreditation, A2LA. PCC also provides testing and product development services through our Solutions Center in Asheboro, N.C. For more information, call (800) 922-9936 or visit http://www.plasticscolor.com.