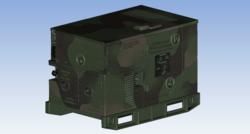 Not only has NGRAIN helped CFSEME ensure that the majority of students pass this challenging course, but the average student mark is now 97 per cent, up from 82 per cent.
Vancouver, Canada (PRWEB) March 14, 2012
NGRAIN®, the leading provider of interactive 3D simulation software and solutions for maintenance training and support, today announced that the Canadian Forces School of Electrical and Mechanical Engineering (CFSEME) has achieved significant Return on Investment (ROI) for the 5KW Power Generator Virtual Task Trainer™ (VTT™) that NGRAIN delivered to the School in February2011. Since the implementation of the NGRAIN VTT, nearly every student in the Electro-Optics course has passed the generator troubleshooting and maintenance course, which previously had a failure rate of 20-25 per cent.
"Not only has NGRAIN helped CFSEME ensure that the majority of students pass this challenging course, but the average student mark is now 97 per cent, up from 82 per cent," said Gabe Batstone, CEO, NGRAIN. "Using our uniquely deployable and interactive Virtual Task Trainer solution to address critical training gaps has resulted in a new training paradigm for the Canadian Forces – one that ensures Canadian soldiers are trained to a higher standard of proficiency at a lower cost."
Training for the 5KW Power Generator is very detailed, requiring CFSEME technicians to understand complex electrical schematics and diagrams. In addition, troubleshooting procedures need to be conducted in specific sequences. Traditional teaching methods, which included lectures using a series of PowerPoint slides in a classroom environment, made transferring knowledge to the real equipment difficult for students. With the NGRAIN 3D simulation of the generator, which includes the common operational and troubleshooting procedures as well as schematic diagrams and overlays, students are easily able to visualize tasks and readily able to apply their knowledge to the equipment.
In addition to addressing critical training gaps in the course, CFSEME incorporated NGRAIN technology into the classroom to deliver a blended training environment that addresses the needs of both its digitally savvy demographic, as well as those comfortable with lecture-style formats. With up to three generations of students in a single course, CFSEME used NGRAIN to provide a way for students to learn independently outside of the classroom, for instructors to provide dynamic training in the classroom, and to strengthen the correlation of theoretical training to practical training in the shop or in the field.
"NGRAIN is extremely proud to support CFSEME in its training objectives," continued Batstone. "The power of interactive 3D technology combined with a relentless focus on solving business problems delivers results. Now, CFSEME can accelerate and improve knowledge transfer across the Department of National Defense and empower technicians deployed around the world as they carry out the missions in support of NATO and the United Nations."
The VTT is a commercial-off-the-shelf software-based solution that leverages NGRAIN's highly deployable 3KO® or 3D Knowledge Object™ simulation technology. Based on instructional design best practices, the VTT is designed to provide training on maintenance procedures, theory of operations, and troubleshooting exercises including testing components. The VTT can be deployed in a Learning Management System, used independently by students, or in a blended learning classroom environment.
For more information on the CFSEME 5KW Power Generator VTT implementation, please download the case study.
About NGRAIN
NGRAIN® is the creator of interactive 3D simulation software and solutions that have set the standard for technical training and operational support, providing the most true-to-life, virtual hands-on experience. Offering both a development platform and custom solutions, NGRAIN is focused on solving business problems while delivering value. With NGRAIN, organizations worldwide are revolutionizing how they prepare their people for optimum performance. http://www.ngrain.com
For additional information, please contact:
Sarah Grant, Public Relations Manager, NGRAIN
(438) 257-1290
sgrant(at)ngrain(dot)com
http://www.twitter.com/ngrain
http://www.facebook.com/ngraincorp
http://www.youtube.com/ngrain3d