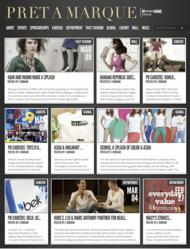 The Private Brand story is more nuanced than a bad economy, it is bigger than "old school private labels" attempting to convince consumers that they are as good as a national brand. Prêt a Marque will p
Omaha, NE (PRWEB) March 15, 2012
My Private Brand founder Christopher Durham today announced the launch of Prêt a Marque, an innovative new social media outlet. The site will be a daily web based publication covering the evolving world of licensed, exclusive and Private Brands in fashion and beauty.
The memorable name Pret a Marque, is a fusion of the worlds of fashion, beauty and brand. The name is literally a conjunction of the classic French phrase: prêt-à-porter, which translates as "ready-to-wear" and the French translation of "Brand":
Pret a Marque will focus on retailer owned or controlled brands from around the world including: curated news, analysis, best practices, opinions, guest editorials and jobs. Content will also be available on Twitter, Facebook and LinkedIn and Pinterest.
Pret a Marque will be consistent with the philosophy and sensibility that Christopher Durham and his strategic alliances are known for: providing one-of-a-kind Private Brand thought leadership and strategy. Pret a Marque will be a stylish, smart and elegant digital experience. It will give its readers and sponsors a deeper understanding of the evolving world of retailer owned or controlled brands.
According to founder, Christopher Durham, "Over the last few years, the emergence of Private Brands has largely focused on food and packaged goods despite the fact that Private Brand is successful in virtually every retail channel. The Private Brand story is more nuanced than a bad economy, it is bigger than "old school private labels" attempting to convince consumers that they are as good as a national brand. Pret a Marque will push the conversation beyond this to include retailers ranging from Nordstrom to Banana Republic to Family Dollar and everything in between."
ABOUT CHRISTOPHER DURHAM:
Christopher Durham is a thought leader, consultant, strategist and retailer with close to 20 years of real-world retail and corporate experience, creating, launching and building numerous billion-dollar Brands. His influential blog, My Private Brand, seeks to drive the changing Private Brand landscape, focusing on the emerging art & science of managing retailer owned BRANDS.
While working as a Brand Manager at the Fortune 50 home improvement retailer Lowe's he developed and implemented their Private Brand portfolio strategy as well as a number of billion dollar brands. Prior to this he served as Brand Manager and Creative Services Manager at Delhaize America where he created and delivered retail brand marketing as well as Private Brand strategy and development for Food Lion, Bloom, Bottom Dollar and Harvey's.
Christopher is a member of the Editorial Board of Private Label Buyer magazine. He is the founder of the groundbreaking My Private Brand group on LinkedIn. He is a sought after keynote speaker who has presented at numerous conferences including: The Private Brand Movement, Shopper Insights in Action, FMI Private Brand Summit and the Own Label Conference – London, England.
ABOUT MY PRIVATE BRAND:
My Private Brand was launched by Private Brand thought leader and strategist Christopher Durham in late December of 2009. It is the most widely read daily publication on Private Brands in the world and the leading resource for retailer owned Brand development, analysis, best practices, news, information and jobs. With readership from retailers, private brand manufacturers, branding agencies and thought leaders, My Private Brand is designed to foster innovation, encourage debate and write the next chapter of brand management – Private Brand Management.