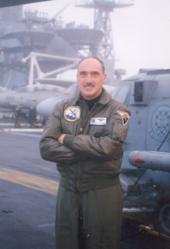 A 30 year career as a naval aviator made him a prime choice to novelize this gripping film...
San Diego, California (PRWEB) March 14, 2012
New York Times best-selling writer, George Galdorisi, launched a new website this week. The website features Galdorisi's newest release, Tom Clancy Presents: Act of Valor (AoV), which he co-authored with writer Dick Couch. The Tom Clancy Presents: Act of Valor book is a novelization of last month's top grossing motion picture produced by Bandito Brothers Films and released by Relativity Media that hit the box office on February 24th. The novelization of the film was released on January 10th, and has enjoyed a top-ten ranking on the New York Times best-seller list since it was released, rising to as high as number four on that exclusive list (as well as #4 on the Publisher's Weekly list). George Galdorisi's extensive naval career and experience as a writer earned him the writing assignment of novelizing this riveting and moving tale about Navy SEALs.
Act of Valor, the film, is an action-packed story based on the dangerous missions that SEAL Teams are called on to execute. The movie casts an elite team of active-duty Navy SEALs to portray the characters in a mission that they could face any day. The AoV story centers on an assignment to recover a captured CIA agent, and quickly becomes an operation to counter a terrorist attack on the United States. The producers of AoV knew that to turn this movie script into a book would be a challenge and required an expert on military strategy, operations, tactics and technology.
His professional experience and writing credentials writing military fiction and non-fiction books, as well as numerous military- and technology-themed articles, made it no surprise that Captain George Galdorisi was selected to team with Captain Dick Couch, a retired Navy SEAL and accomplished writer in his own right, to novelize Act of Valor. A 30 year career as a naval aviator, along with his experience as Commanding Officer, Executive Officer, Commodore, and Chief of Staff, has provided him with unique visibility not only into the what behind military operations, but they why, enabling him to write with insights few writers have. This made him a prime choice to turn the Act of Valor film into a gripping novel.
During his career as a writer, Captain George Galdorisi has produced over two hundred articles for various magazines, professional journals, and newspapers. In addition to Tom Clancy Presents: Act of Valor, he has also written two other novels, The Coronado Conspiracy and For Duty and Honor and several non-fiction books, including Leave No Man Behind, the comprehensive history of Combat Search and Rescue.
The newly launched website highlights Captain Galdorisi's extensive writing career including his books, articles, conference papers and speaking engagements. It also highlights his extensive list of writing awards. George Galdorisi is a sought-after speaker who has made numerous addresses at high-level security, naval, military and industry conferences around the globe. Parties who are interested in contracting Captain Galdorisi for writing or speaking engagements can reach him through his contact page on the new website.
George Galdorisi commented on his accomplishments with the Act of Valor novel, and the launch of his new website. "Having the opportunity to co-author with Dick Couch on Tom Clancy Presents: Act of Valor was truly an honor. It provided a unique opportunity to highlight the sacrifices that Navy Seals make for our country every day. This new website is a platform to highlight my writing and speaking engagements and enables me to post new information on my blog page regarding new writing projects upcoming speaking engagements, and other material of interest regarding security, military and technology matters."
Galdorisi Enterprises is located in Coronado, California and was established in 2010. The company was formed to provide a platform for Captain Galdorisi's writing and speaking interests. Galdorisi Enterprises can be contacted via the website or at (619-318-8238). Website provided by Atlanta SEO Company Interactive Search Marketing.