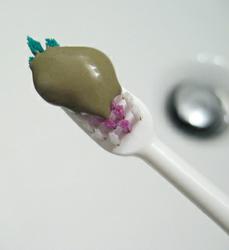 San Francisco, CA. (PRWEB) March 15, 2012
Zion Health's release of its new natural toothpaste; Claybrite Extra is formulated with a highly absorbent detoxifying clay mineral called Calcium Montmorillonite Clay. In addition to its active natural ingredient of Montmorillonite, ClayBrite Extra now has the anti-oxidant power of Green Tea Extract and the added benefits of the sweet tasting and bacteria-lowering natural sweetener, Xylitol.
Given the presence of artificial sweeteners in various toothpastes on the market, Zion's ClayBrite natural toothpaste offers a healthier alternative with Xylitol. Leading wellness experts like Dr. Weil have serious concerns about sugar intake, hidden sugars and artificial sweeteners. Natural sweeteners such as Xylitol, however, do not promote tooth decay, have little effect on blood sugar levels and may improve gingivitis. Dr. Weil says these sweeteners are okay to use in moderation.
The addition of Green Tea Extract to the natural toothpaste ClayBrite Extra may provide even greater oral care. A study published in the Journal of Periodontology found the routine consumption of green tea to have a positive effect on reducing periodontal disease. Similar studies have shown the polyphenols in Green Tea Extract to work as anti-plaque agents. Moreover, the anti-inflammatory properties of green tea are thought to reduce oral inflammation and prevent bleeding gums by interfering with periodontal bacteria.
The evolution of natural personal care products towards chemical free, organic and additive-free formulas continues with Zion Health ClayBrite Extra natural toothpaste. Flossing, rinsing and brushing with a natural toothpaste like ClayBrite Extra will likely reduce the daily intake of toxic chemicals and provide greater oral health.
ClayBrite is available at select health food stores, including Whole Foods- San Mateo, Rainbow Grocery-S.F., Vitamin Adventure-S.F., Apple Health Foods- Redwood City, Alameda Natural Grocery- CA., New Leaf- CA., Green Acres- New Jersey, Full of Life- Burbank, Pensacola Health Foods- Florida, Vitamin Express-S.F., and online at http://www.kanwaminerals.com. Zion Health provides consumers with pure, skin and body care products that are 100% vegan, free of parabens, aluminum, sulfates, and are formulated using certified organic ingredients whenever possible. For more information on Zion Health products, go to: http://www.zionhealth.net.