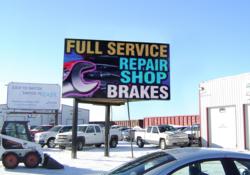 "Anderson Auto and Audience Billboard Network rave about their experience with Advantage LED."
Saskatchewan, Ontario (PRWEB) March 15, 2012
Mitch Anderson owner of Anderson Auto and Audience Billboard Network had nothing but good to say about his experience working with Advantage LED Signs for his LED billboard advertising needs. Mr. Anderson uses his digital billboard both for advertising for his car dealership Anderson Auto, as well as his Audience Billboard Network in which he leases spaces out to clients for their advertising needs. This in turn increases company's visibility and ROI in a most speedy fashion! Some of the clients Audience Billboard Network is currently working with are a hot tub company as well as a body shop. Audience Billboard Network leases space out on their billboard sign for other companies for a monthly fee of $500-$600. The most clientele he has had in a month's time advertising has maxed out at fourteen making a return of $6,000-7,000 a month, which Mitch says is right about where he was hoping the digital billboard would put him. He stated that after installation of the LED billboard ROI had a bit of a drawn out incline, but after the initial month or two picked up right away just by traffic passing by.
He was very pleased with the work Advantage LED Signs has done with him from start to finish. Mitch is based out of Saskatchewan, Ontario and came across Advantage LED Signs online. He said he was a bit leery at first as to how well the relationship was going to work out working with a company located in the US, but said from start to finish the entire team at Advantage LED Signs was very thorough, informational and helpful. He hasn't had any issues except for minor glitches, which were corrected immediately after rebooting the sign. The entire past year he's been using the Advantage LED digital signage without error, unlike some other billboard providers nearby that he's seen out for days! Mitch stated that his ROI is great, and Advantage LED Signs pricing is very competitive. During his installation Advantage LED Signs had to deal with sending their technician out for installation in 40 below temperatures, but the team pulled through regardless!
Following installation, Advantage LED art department provided Mitch with professionally created content in his programing software so he had something to roll with right away on his digital billboard. Mitch quickly obtained repeat customers that subscribe to the billboard monthly for their advertising needs. He says he's more sold on Advantage LED Signs than any signage company he has available to him in Canada at this time.
Advantage LED Signs is a US manufacturer of LED billboards and the source for Digital LED Billboards in the US and Canada. Let us perform a traffic survey, site survey and tell you the permit likeliness of your location. At Advantage LED Signs, we not only deliver quality LED billboards, we provide exceptional service and resources for our clients. Visit us on the web at http://www.advantageledsigns.com/led-signs/digital-led-billboards/ or call 1-877-328-6555 today!