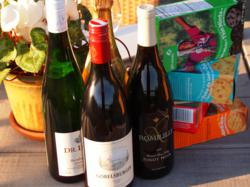 "Even the simplest sweets can be paired with a fine wine," said Margerum.
Napa Valley, CA (PRWEB) March 14, 2012
You couldn't say no to your co-worker's pitch for her daughter's Girl Scout Cookies. Now, what to do with all those Do-Si-Dos and Tagalongs? Kris Margerum, Wine Director at Napa Valley's luxury hotel and Michelin-starred restaurant Auberge du Soleil, offers a wine-lover's solution. "Even the simplest sweets can be paired with a fine wine," said Margerum. He enjoys pairing confections with exquisite vintages. "They shape the flavor and take the simple experience of enjoying a cookie to an entirely new level of enjoyment."
Margerum, a 25-year veteran of Auberge du Soleil, blind-tastes more than 100 wines a week to maintain Auberge du Soleil's wine list of 1,500 selections, and offers after-dinner pairings of rare Madeiras and house-made chocolates at the inn's restaurant. He explored Auberge du Soleil's 17,000-bottle cellar, for the perfect wines to complement selections from this year's batch Girl Scout goodies:

Begin your pairing adventure with the Trefoils-Old Fashioned Shortbread paired with the 2007 Schramsberg Blanc de Noirs Sparkling Wine. The creamy richness of the shortbread is balanced by the fresh lively notes of the Sparkling Wine.
Follow with Savannah Smiles paired with 2010 Dr. Loosen "Bernkasteler Lay" Riesling-Kabinett. "The lemon notes and powder sugar create an amazing match with this off-dry, high- acid white wine," said Margerum.
His favorite pairing is Dosidos-Peanut Butter Cremes with 2009 Schloss Gobelsburg Gobelsburger Zweigelt The light bodied and fruity Zweigelt paired with the Do-Si-Dos brings home the flavors of peanut butter & jelly.
Thank U Berry Much cookies follow nicely with the 2009 Romililly Pinot Noir Russian River Valley.
Dulce de Leche-Caramel cookies perfectly complement the 2006 Renwood "Grandmére" Zinfandel.
Margerum suggests finishing with the three chocolate cookies, beginning with the Samoas and a Graham's 20-Year Tawny Port. The coconut is an ideal blend with the oak-aged port, while the Noval Vintage Ruby Reserve Port is rich enough to match the chocolate and mint flavors of the popular Thin Mints.
To guarantee a party-pleasing finale, Margerum pairs the Tagalongs-Peanut Butter Patties with the Rare Wine Company's "Imperial-Old Reserve" Malmsey Maderia, because, Margerum added, "Nothing goes better with sweet Maderias than chocolate and nuts."
For more information about Auberge du Soleil's award-winning wine program or Madeira and chocolate pairing, visit http://www.aubergedusoleil.com/napa-dining/wine-program.
About Auberge Resorts
Auberge du Soleil is the flagship property of Auberge Resorts, a collection of exceptional hotels, resorts and private clubs, each with a unique personality that assures a memorable guest experience. While Auberge Resorts nurtures the individuality of each establishment, all are characterized by a set of communal elements: intimate, understated elegance; captivating locations that inspire exceptional cuisine and spa experiences; and gracious yet unobtrusive service. Among the Auberge collection of distinctive properties are: Auberge du Soleil, Napa Valley, Calif.; Calistoga Ranch, Napa Valley, Calif.; Solage Calistoga, Napa Valley, Calif; Encantado, Santa Fe, New Mexico; Esperanza, Cabo San Lucas, Mexico; The Inn at Palmetto Bluff, Bluffton, S.C.; Hotel Jerome, Aspen, Colo.; Auberge Residences at Element 52, Telluride, Colo.; and Auberge Residences at Mammoth, Mammoth Lakes, Calif., with several others currently in development. For more information about Auberge Resorts, please visit http://www.aubergeresorts.com. Follow Auberge Resorts on Facebook at facebook.com/AubergeResorts and on Twitter at @AubergeResorts.