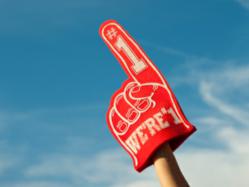 There are certainly some candidates that understand this concept much more than others, and their use of promotional products has been exceedingly apparent.
Essex, CT (PRWEB) March 20, 2012
With the 2012 Presidential Election and the General Elections rapidly approaching, each candidate is reaching out to every American to get their vote. The real question on everyone's mind is how should each candidate reach the citizens of the United States in a timely and efficient way? The answer is simple – they must get their name seen repeatedly. In doing so, it will be easier to learn more about them as a candidate and a leader. There are certainly some candidates that understand this concept much more than others, and their use of promotional products has been exceedingly apparent.
Promotional products can play a significant role in getting any company logo or individual name known to the public because it is a cost effective approach to publicizing the candidate. 4AllPromos has recently announced that they will offer free shipping on any order placed by any active campaign in the 2012 Elections in an effort to encourage the candidates to use this effective advertising options.
There are so many different ways that each candidate can use promotional products in their efforts to become more well-known among the people. In fact, they've been used very often, but it can sometimes get repetitive and boring. The candidates tend to stick with the simple button pins, stickers, flyers, etc. The simple truth of it is that they need to be more creative. Tote bags, for example, would be a great addition to any campaign. They are used everyday by all different types of people. It would give the people an easy way to show their support for the candidate that they believe would be the best fit as their President, Senator, Congressman or local official.
With the summer months coming up, people could use tote bags at the beach, by the pool, and so many other public places where the candidate's logo will sure to be seen. To add to this summer look, paper hand fans seem only fitting with the intense summer heat.It really is an easy way to cool off without having to go indoors and be at the mercy of the air conditioner! If, however, the candidate does not like this particular product idea, they could turn to baseball caps instead! A baseball cap can protect against the damaging sun and also promote a candidates campaign.
These are all great ideas that any candidate would be wise to use in their campaign. Even so, there are many other promotional products that can be used in any campaign too. Key chains, for instance, are perfect for anyone that wants to show their support in a simple and less showy way. They can attach it to their wallet or bag and be discrete about their political views while still showing support for a candidate.
Aside from these ideas, there is one more classic product that any campaign would benefit from – the #1 foam finger. If a candidate were to use this as a promotional product, they would benefit from it in numerous ways. Most importantly, the people would se a comedic side of the candidate that they are not often exposed to. If a candidate were to give out #1 Foam Fingers with his logo on it, most people would appreciate it because it shows that the candidate is able to stop himself from taking things too seriously and act just like any average citizen.
These are only a few ideas for how each candidate can get his name known. The process of running for elected office can be extraordinarily difficult, but the candidates cannot give in to the pressure. Their campaign will be much more likely to succeed if they take advantage of ideas such as promotional products. There is never such a thing as too much advertising, but you do want to make sure that you get the best deal possible. There are many promotional product companies out there, but specifically the company 4AllPromos can provide you with a large selection of custom imprinted items. You can find 4AllPromos on Facebook and Twitter to receive special offers and discounts.