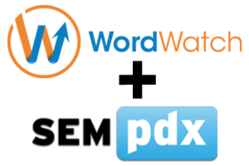 We look forward to developing a strong partnership with SEMpdx.
San Jose, California (PRWEB) March 14, 2012
WordWatch and Portland-based SEMpdx have announced that they have become search engine marketing industry partners. SEMpdx is a group of local search engine marketing professionals and local businesses. They work together to improve the quality of their work and build credibility for Portland as a national search engine marketing hub.
"This is a great opportunity for us to work directly with active search engine marketers and get them to see what we offer," Chris Bauman, VP of business development for WordWatch, said. "We're happy to help the group of business owners and consultants with our AdWords tools and look forward to forging a strong connection with them."
WordWatch, the AdWords bid management startup is offering SEMpdx members a special price when they sign up for a WordWatch account through the SEMpdx website.
About WordWatch:
Founded in 2009, WordWatch is an online AdWords bid management application designed for small business advertisers, marketing consultants and freelancers, and small agencies. The application simplifies the daily management of keyword bids and constantly optimizes a customer's AdWords account. WordWatch has offices in San Jose, Amsterdam and Krakow.
Related Links
http://www.wordwatch.com
http://www.sempdx.com