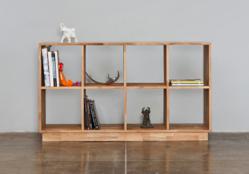 LAXseries employs a modern design aesthetic with the rustic beauty of natural wood
LOS ANGELES, CA (PRWEB) March 14, 2012
MASHstudios, Inc. a renowned furniture design studio based in Los Angeles, announced on Monday that is would be debuting three new products on their LAXseries ecommerce store. Staying true to the company's vision - these pieces are all made from solid wood and finished with natural oils. New products include: the 4x2 bookcase, the stool and the wall-mounted table. The LAXseries employs a modern design aesthetic with the rustic beauty of natural wood. The deep glow of walnut gives a sense of warmth to even the most industrial of spaces.
MASHstudios has done it again by adding yet another unique piece, the LAXseries wall-mounted table, to its free floating line. Solid English walnut wood construction allows anyone to incorporate a breakfast table or bar without sacrificing a lot of space.
Wall mounting may seem like a daunting task but it has never been easier with MASHstudios' uniquely engineered toggle system. The hardware eliminates the need to find studs in the wall, while maintaining incredible stability.
The LAXseries 4x2 bookcase is a low unit perfect for dividing rooms or even for use as an open buffet. A sleek new addition to the line that is refined looking, yet incredibly sturdy.
Finally the LAXseries stool gives the bench feel without sacrificing personal space. This beautiful solid wood stool fits perfectly with the rest of the LAXseries dining components.
MASHstudios never uses lacquers or harsh glues in manufacturing and although the piece are meant to last a lifetime, if they ever need to be discarded the individual components are all fully recyclable.
To purchase LAXseries products and to see more about the line visit LAXseries.com.
MASHstudios, Inc. is a multi-disciplinary firm specializing in furniture design and manufacturing. MASH prides itself for taking on projects that push the creative envelope and they consistently work with clients who are changing the social climate. Current projects range from the creation of unique office environments and retail spaces to designing sleek residential furniture lines. MASHstudios has collaborated with clients such as: Kid Robot, Crate and Barrel (CB2), Gensler, Annenberg Foundation, AOL, and Microsoft.