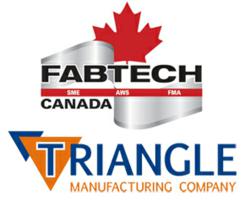 Oshkosh, WI (PRWEB) March 14, 2012
Triangle Manufacturing Company can't wait to exhibit at FABTECH Canada, March 20-22nd in Toronto to show off their expanding product lines and welcome a new mascot. Check them out in booth #2817 as they unveil a new message showcasing their Creative Engineering prowess and as they work on naming an entertaining new "mascot". For nearly 90 years Triangle Manufacturing has been the go-to manufacturer for some of the most recognizable household names in the lawn and garden, HVAC and agricultural industries. Our products always have and continue to help trucks go, tractors work, conveyors roll and the world move.
Triangle Manufacturing has always utilized creative engineering since its inception in 1922. They produce plain bearings and mountings that are some of the best in the industry, and are known for using creative engineering to reduce costs, material and improve shipping efficiency. At FABTECH Canada they'll be showcasing intuitive products like direct-drive motor mounts, custom rod ends and linkages, smooth turning lazy susan bearings and endless custom components.
Triangle will also be showing off an eye-catching new display that utilizes some of Triangle's most popular products and fully embodies their "Creative Engineering" message in a very tangible way. Stop by to view their custom components, discuss an engineering problem, and help name their remarkable, revolving robot. Triangle will choose one naming winner each day and they'll receive a desktop version of the Triangle mascot. So stop by for a chance to win, they'll be there all day every day at booth #2817!
About Triangle Manufacturing
For almost a century, Oshkosh, Wisconsin's Triangle Manufacturing Company has used a foundation of experience, paired with technical know-how and advanced automation to be the leader in fully customizable metal fabrication, product innovation and invention. We have introduced and redesigned fresh products that are progressive in their respective industries. Whether you need lazy susan bearings and HVAC components, pillow block mountings and blower bearing brackets or rod ends and direct-drive motor mounts, you can rely on Triangle Manufacturing's Creative Engineering.