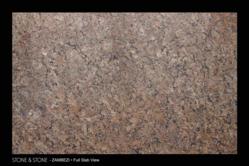 The beauty of nature can be in your kitchen but not to the cost of the environment
USA Africa Range Office, Nashville, TN (PRWEB) March 29, 2012
The Africa Range is known for always researching and looking for new colors to add to their already successful range. In the past two years the company researched African black and is now producing a premium black from a new quarry. The same effort goes into researching for colors that will be popular in the International market.
The Golden Cascade and Madikwe are such new colors that have been added to the Range. The colors represent the warmth and the natural earthy tones of the desert. The movement is subtle and unique, which makes it attractive to use in new projects by designers. Each pattern in the African Colors are so different that not two kitchens will look the same and allows for the total uniqueness that builders , re-modelers and architects are longing for. All the newer colors are also available in variety of finishes such as polished, honed,brushed,and leathered.
Customers are drawn to the beauty of this African stone and it is important to know that it is also mined using best practices and conservation methods. Preserving the environment, in particular the mystical, other worldly landscape of the Namibian Desert is very important to the Africa Range.
No explosives are used on the quarry, only wire saws and now recently acquired giant blade saws, which limits the amount of waste, and increase the recovery of the colors mined. It is also more eco friendly and has a low environmental impact. Therefore the beauty of nature can be in your kitchen but not to the cost of the environment. The USA representatives of the Africa Range will be attending the Coverings Show at Orlando in April and will be available for meetings.