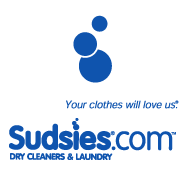 "We're in the business of making people look and feel good - across our entire community," says Sudsies Founder and CEO Jason Loeb
Miami Beach, Florida (PRWEB) March 14, 2012
With Spring cleaning duties just around the corner, Sudsies Dry Cleaners & Laundry urges South Floridians to donate their gently used and unwanted garments to their neighbors in need. In partnership with Camillus House, Sudsies is host to an ongoing clothing drive, whereby its customers can arrange to have their donations picked up along with their regular cleaning services. All items will be allocated to underprivileged individuals and families across Miami. Fellow dry cleaners Sir Galloway and Rey's Cleaners and DryClean USA are also involved in the program.
"We're in the business of making people look and feel good - across our entire community," says Sudsies Founder and CEO Jason Loeb. "Social responsibility is of great focus for Sudsies and our goal with this Camillus House partnership is to initiate and make it easy for our clients to also get involved in giving back."
Along with its signature yellow garment delivery bags, Sudsies distributes specialty collection bags to patrons to fill with gently used clothing, shoes and accessories. Donations can be picked up with Sudsies' regular complimentary pick-up and delivery service or dropped off at its Miami Beach storefront, in addition any of the other participating cleaners' locations. The cleaners then ensure that all items are handed over to Camillus House for sorting and distribution. The program also offers sponsorship opportunities whereby businesses can make a $5,000 donation to Camillus House in exchange for its name and logo printed on the collection bags.
Camillus House has provided humanitarian services to the indigent and homeless populations of Miami-Dade County for nearly 50 years. Established by the Little Brothers of the Good Shepherd in 1960, the full-service center offers a "continuum of care" for persons in need, giving them the hope and support they need to begin the long, difficult transition to a new life and self-sufficiency. Camillus House programs include compassionate hospitality and assistance; emergency, transitional and permanent housing; treatment for substance abuse and mental health issues; and JOB employment assistance with industry-specific and on-the-job training.
Sudsies' many core services include eco-friendly dry cleaning, laundry, alterations, restoration and preservation, couture work, on-site home cleaning and complimentary pick-up and delivery across Miami-Dade, Broward and Palm Beach counties. High-tech facilities, in-depth skills and expertise and customer convenience are a part of the Sudsies S.M.I.L.E. mantra to provide friendly, impacting experiences for its clientele.
More information about the Camillus House and how to get involved in the clothing drive can be found at http://www.camillushouse.org. Details about clothing donations can also be obtained by dialing Sudsies at 1.888.898.SUDS (7837).
About Sudsies Dry Cleaners & Laundry
Miami Beach-based Sudsies is full-service dry cleaning company dedicated to clean clothes, clean service and a clean environment. An industry pioneer for South Florida home pick-up and delivery services, the Sudsies fleet of bubbly, blue and yellow vans offer prompt service to every nook and corner across the tri-county area, while a team of highly-trained specialists care for garments and customers with a smile. The vast range of services includes ecological dry cleaning and laundry processes, alterations and tailoring, clothing restoration, bridal gown storage or alteration and knowledge of specialty items such as couture garments. At Sudsies, customers look and feel their best, while sister company Rugsies Carpet & Drapery ensures customers live in their best with on-site home or office cleaning for carpets, drapes furniture and other home items. For more information about Sudsies, please call 1.888.898.SUDS (7837) or visit http://www.sudsies.com.