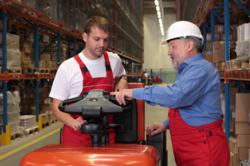 This is a very unique opportunity: to learn about Lean best practices for material management, and then to see the methods in action in one of the best factories in North America.
Boulder, Colorado (PRWEB) March 15, 2012
Material management is a critical element in any manufacturing improvement effort, and no one does it better than Toyota. The method of choice for material delivery is called Kanban, a signalling method that if executed properly can virtually eliminate parts shortages on the factory floor. Toyota was instrumental in developing this system, and the workshop focuses on the various Kanban and material management methods in use at Toyota.
Participants will study each of the principal Kanban methods, and immediately apply these methods in a simulated factory. They will then have a chance to see the tools in action on the factory floor, at the Toyota Material Handling lift truck plant in Columbus, Indiana. This factory was voted Plant of the Year in 2010 by Plant Engineering Magazine.
Richard Rahn, the president of the Lean Factory Group and a principal with the Leonardo Group said "Nothing shuts a factory down faster and more often than material shortages. Many of the problems are self-inflicted. We have been working with Toyota Material Handling to validate and teach the material handling methods currently in use there. Daily factory tours will add a rare opportunity to see a mature material management system in action."
The workshop is also sponsored by the non-profit Lean Factory Group, and the tools and equipment for the class are provided by Lean Factory Group members Toyota, Bosch Rexroth and Orgatex. Participants will be working with a complete set of Kanban management tools from Orgatex, in setting up a model material delivery system in the classroom.
Date: June 5-7 2012
Place: Toyota Material Handling, Columbus, Indiana.
Cost: $1,995.00. Group discounts available.
Attendance limited to 32 seats.
Find out more and register at http://www.leanfactorygroup.com