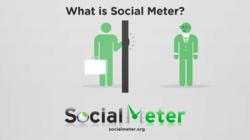 Meet for a purpose
Houston, TX (PRWEB) March 15, 2012
Social Meter, a Houston-based startup, provides a vehicle for executives and other professionals to parlay the public's desire for personal access to them into charitable contributions. Malcolm Sykes, founder of Socialmeter.org, says the site allows an individual to use his or her notoriety for a good purpose. Sykes points to billionaire Warren Buffett's lunch as an example of a very high Social Meter.
In June of 2011, Buffett held his 12th annual charity auction in which the winning bidder received a steak lunch at a New York restaurant with the Berkshire Hathaway investor. The winning bid was $2.63 million and the funds benefited Glide, a San Francisco anti-poverty charity that was a favorite of Buffett's late wife Susan.
Later that year Buffett extended this concept of a one-on-one session with him benefiting charity through Business Wire, one of the companies Berkshire Hathaway owns. Business Wire held a video contest to give college students a chance to meet Buffett and help ring the opening bell at the New York Stock Exchange.
Malcom Sykes, of Social Meter, believes that one does not have to be a billionaire, or a celebrity, to give back to local communities. In other words, to have a Social Meter. He hopes that those who have achieved success and are admired within their professions and in their localities will, hopefully, be motivated to register at SocialMeter.org.
The web site allows aspiring movers and shakers to bid for access to successful individuals by donating to their supported non-profit organizations. Each person selects a minimum bid that must be met before the request is sent. Profiles of the bidders and executives are provided via LinkedIn.
For more information about SocialMeter.org, visit the web site or contact Malcolm Sykes, at (888) 280-8020 or malcolm(at)socialmeter(dot)org.