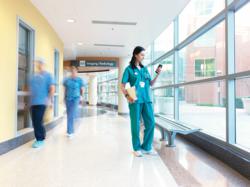 Healthcare is a very demanding industry and we are proud to offer wireless systems that address their need for timely and accurate communication.
Orlando, FL (PRWEB) March 14, 2012
Wireless Technology (WTEC), a leading Central Florida Motorola Platinum Channel Partner, is engaging the marketplace with a versatile wireless solution for institutional and first response professionals in medical or healthcare organizations where communication plays a critical role in their operational excellence.
Upon Motorola expanding their product offerings over the years, Wireless Technology has begun deploying full-product packages for the healthcare sector, where demand for advanced, wireless solutions has the potential to better prepare its personnel with the security and reliability they need from their communication devices.
The most basic challenge of the healthcare industry is to provide care—be it emergency or not—to patients, but this adds an important element of risk related to the communication of sensitive information under the jurisdiction of HIPAA in the U.S.
HIPAA Privacy Rule protects the privacy of patient information to ensure that information, whether it is transmitted in verbal, written or electronic media, remains secure from third parties who may come in contact with this information.
Wireless Technology's Motorola products have been packaged to provide enhanced communication performance that can strengthen both security and productivity in healthcare or medical environments where HIPAA must be upheld.
With the urgency and risk of most medical situations, it is important for healthcare organizations to have secure wireless networks—and Wireless Technology's complete line of two-way radio products and digital systems allow the healthcare staff to communicate effectively without the risk of compromising response or security.
Wireless Technology's healthcare mobile solutions include two-way radios designed for easy integration and customization for specific medical environments, including fully-integrated packages offering portable and mobile products containing the latest in Motorola technology.
"Our wireless products and packages are designed to help healthcare professionals plan and implement the most efficient and cost-effective mobile solution—in or outside their facilities," says Brian Tomooka, Sales and Marketing Manager for Wireless Technology. "Healthcare is a very demanding industry and we are proud to offer wireless systems that address their need for timely and accurate communication."
From medical directors to physical therapists, integrated Motorola packages serve the wireless needs of medical centers and home care providers nationwide, regardless of hospital budgets or specific needs.
About Wireless Technology
Wireless Technology is a Motorola Platinum Channel and Premier Service Partner located in Central Florida. We provide high quality, affordable wireless communication systems, products and services.
To learn more about Wireless Technology and its healthcare solutions, visit http://www.motorolahealthcaresolutions.com.
For more information:
Brian Tomooka
3382 Bartlett Blvd.
Orlando, FL 32811
Telephone: (407) 648-5333
Email: brian.tomooka(at)wtecmss(dot)com
###