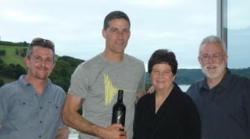 These wines are amazing...I had to learn more about how these wines were made
Waiheke Island, New Zealand (PRWEB) March 14, 2012
Destiny Bay Vineyards announced today that Matthew Fox, who starred in Lost, Party of Five and the upcoming film The Emperor, took time out of a hectic filming schedule to visit the vineyard and winery last weekend. Stating "these wines are amazing," Mr. Fox has joined the ranks of Destiny Bay's Patron Club members who collect its single vineyard artisan wines.
"Margherita and I tried the Destiny Bay Magna Praemia at The Grove Restaurant in Auckland, and it blew us away," stated Fox. "When we went back for dinner at The Grove a few days later and tried their Destinae blend, I decided I had to learn more about how these wines were made."
Fox's wife Margherita returned to New York for a prior commitment, but he decided to journey on his own to Waiheke Island and Destiny Bay Vineyards … and promptly got lost. "It was pretty ironic actually", stated Sean Spratt, winemaker and owner of Destiny Bay Vineyards. "We were expecting Matthew and his assistant and we were starting to wonder what might have happened. Then the phone rang and his assistant said they were lost. Turns out they were only a few hundred meters away so there was no real drama."
Fox was in Auckland to complete principle filming of The Emperor. A casual day on Waiheke Island tasting Destiny Bay wines was a relaxing break from the hectic schedule he keeps. After a tour of the vineyard and winery, they got down to the serious business of tasting wine from the 2007, 2008, and 2010 vintages. "Having spent time here seeing what Sean, Ann, Mike, Brett and the rest of their team do, I now understand why these wines are so good," stated Fox. "I can hardly wait to get my annual allocation."
"Matthew has a discriminating palate and understands what we are trying to accomplish," stated Ann Spratt, co-founder and wine scientist. "Our team works very hard to make elegant and expressive wines and we are delighted when enthusiasts like Matthew and Margherita enjoy the results of our effort." Mike Spratt, co-founder, added, "Matthew grew up on a farm and appreciates the level of passion and commitment it takes to create something special that comes from the earth."
"Even if somebody gets lost trying to get here we're prepared to send out a rescue party to find them," said Brett Taylor, co-owner and Director of Global Distribution. "All of our supporters are very important to us and we are pleased to welcome Matthew and Margherita as our newest Patron Club members."
About Matthew Fox
Matthew Fox is an American actor, widely known for his role as Charlie Salinger on Party of Five, and for portraying Jack Shephard on the supernatural drama television series Lost. He is presently engaged in the filming of The Emperor.
About Destiny Bay Vineyards
Destiny Bay is a small, single vineyard, family-owned winery on Waiheke Island, New Zealand that specializes in estate grown and bottled blends of Cabernet Sauvignon, Merlot, Cabernet Franc, Malbec and Petit Verdot. Destiny Bay produces fewer than 2,500 cases per year of their three distinct blends, Magna Praemia, Mystae and Destinae. Destiny Bay is Waiheke Island's first fully certified Sustainable Winery & Vineyard (SWNZ).
Trademarks
Destiny Bay, the Comet, Magna Praemia, Mystae, Destinae and Dulce Suavi are registered trademarks of Destiny Bay Vineyards Ltd. Other names may be trademarks of their respective owners.