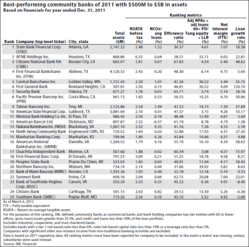 (PRWEB) March 14, 2012
Atlanta-based State Bank Financial Corp. ranked highest among SNL's annual list of best performing community banks between $500 million and $5 billion in assets for 2011. Despite being headquartered in a state that has seen 77 failures since 2008, the company took advantage of the situation and consumed 12 of its fallen comrades through failed bank transactions including two last year.
Ranking in second place was Houston-based AFNB Holdings Inc. Close behind AFNB was Bossier City, La.-based Citizens National Bank N.A. which snagged the third highest score. Topping SNL's list of the 100 best performing community banks with assets less than $500 million was Flushing, NY-based Amerasia Bank.
In SNL's analysis of the states that are home to the banks ranging in assets between $500 million and $5 billion on the list, Texas had the highest number of ranked banks in 2011 with 12 companies in the top 100. California came in second with 9 banks, followed by Virginia and Pennsylvania with 8 banks each.
SNL ranked the best performing community banks on two lists based on asset size: the top 100 with $500 million to $5 billion in assets and the top 100 with less than $500 million in assets.
Methodology: To compile the rankings, SNL defined community banks as institutions with less than $5 billion in assets, 60 or fewer offices, with at least one-third of their balance sheet composed of loans, and cannot have more than half of their loans in credit cards. Additionally, banks with a majority of revenue derived from nontraditional banking activities or not well capitalized were excluded. SNL ranked companies at the bank holding company level if consolidated data was reported. Otherwise, commercial bank subsidiary data was used. Thrifts were excluded. Based on the described criteria, 723 companies with assets between $500 million and $5 billion, and 4,316 companies with assets under $500 million were eligible for the rankings.
Recognition: SNL will recognize the top performers in person at the 2012 SNL Community Bankers Conference, May 3-4 in Tampa, FL. The conference features community bankers and advisors from across the country sharing operational and financial strategies they've found useful in driving profitability. Details and registration can be found at http://www.snlcenter.com/CBC. Press passes for members of the media are granted on a case-by-case basis. For consideration, please contact Christina Twomey.
About SNL Financial LC
SNL Financial is a leading provider of financial information on more than 4,000 public companies and 50,000 private companies in business sectors critical to the global economy: banking, financial services, insurance, real estate, energy, and media & communications. SNL's information services deliver comprehensive data, breaking news, and expert analysis, updated around-the-clock and accessible via web, Excel and mobile platforms. The Company is headquartered in Charlottesville, Virginia with additional offices in the U.S. and around the globe. For more information, please visit http://www.SNL.com.
Visit SNL in the Media to learn more about resources available to members of the media.
SNL Financial on Linked In: http://linkedin.com/company/snl-financial
Follow Us on Twitter:
SNLEurope | SNLFinancial | SNLRealEstate | SNLEnergy | SNLKagan | SNLPeople
###