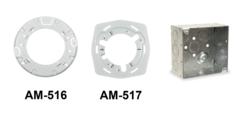 San Jose, California (PRWEB) March 14, 2012
VIVOTEK has released two new mounting accessories, AM-516 and AM-517, to allow for easier and more flexible mounting of its dome camera series.
The AM-516 is compatible with the FD8162, part of the SUPREME series with full 1080p viewing resolution allows the fixed dome camera to be mounted to the AM-211 L-Bracket for wall installation as well as standard 4" or 4 11/16" electrical backboxes.
The AM-517 is compatible with the FD8133, FD8134, FD8133V, and FD8134V 1-Megapixel dome camera series and allows them to be used with the AM-518 dome mount for wall or pendant style applications as well as standard 4" or 4 11/16" electrical backboxes.
The existing FD8362 and FD8362E already include a mounting plate for electrical box mounting.
With these mounting solutions now available, installers can easily fit the cameras to standard electrical equipment for their installations. For example, any of the indoor domes listed above can now be pendant mounted directly onto an electrical box and hung using conduit in an open ceiling building, such as a supermarket, retail location, or industrial warehouse.
"Users are always demanding more usability with VIVOTEK cameras as our business grows," said Harry Hu, President of VIVOTEK USA. "With these new flexible mounting options, we have demonstrated a continued commitment to reacting to our customers' demands."
For more information on VIVOTEK mounting and accessories, please visit http://www.vivotek.com/products/accessories.php?type=mountingkit
About VIVOTEK
VIVOTEK INC., established in 2000, has quickly taken its place as a leading brand in the security industry. Known for delivering world-class IP surveillance solutions, VIVOTEK specializes in audiovisual compression and integration. With the innovative R&D teams adopting sophisticated codec technologies, VIVOTEK provides a wide range of products, including network cameras, video servers, video receivers and central management systems. VIVOTEK was listed on the Taiwan Stock Exchange in 2006. In 2008, a branch office was set up in California, USA. VIVOTEK is currently working with more than 160 authorized distributors in over 80 countries. For more information, please visit http://www.vivotek.com.