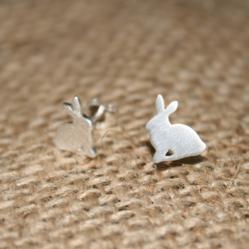 Consumers can shop the Easter Goodies section to find all sorts of unique gift ideas for Easter.
Wilton, CT (PRWEB) March 15, 2012
Grass is turning green. Flowers are popping up. Winter boots are being stowed away. Easter is just around the corner. Traditionally, Easter baskets are full of sugary sweets. Blue Star Bazaar, however, has created a special shopping destination for springtime goodies that are easy on the teeth and the waistline.
Consumers can shop the Easter Goodies section to find all sorts of unique gift ideas for Easter (and all other spring gift occasions). Some of the highlights from this special destination include:
*Sterling silver bunny jewelry - Sterling silver is cut into simple but whimsical shapes with clean lines by jewelry designer Tashi. Some of the styles that are especially appropriate for this time of year are the bunny silhouette necklace, bunny stud earrings, or the cut out bunny necklace ($25 to $38).
*Bunny "jack-in-the-box" – Many adults remember a jack-in-the-box clown from their youth. This bunny version has a vintage look but is cuter and more cuddly than the original. It even plays "The Bunny Hop" ($32).
*Personalized necklace pendants in spring colors – These glass pendants come in a wide variety of fun colors and patterns. In just a few days, necklaces can be personalized with initials or a monogram. At only $37, it's a personalized gift that can't be beat. Plus, it's small enough to stash inside a plastic egg.
*Boldly colored watches at a great price – Bold "boyfriend" style watches come in colors as bright and fun as jelly beans. They're also packaged inside a reusable coin bank. At $32, it's a gift that shoppers can put in everyone's basket (and still afford one for themselves).
*Heirloom quality nesting egg toy for toddlers – Wooden chicks and eggs nest inside each other to create a perfect toddler activity. The chicks and eggs look especially cute nestled in some cellophane grass on Easter morning. Set retails for $35.
To see images of these products and more, please refer to the document included with this press release. You can also buy all items here.
Blue Star Bazaar, founded in 2010 by Megan LaBant Abrahamsen, is an online retailer of unique gifts for women and kids. For those looking for unique gift ideas, Blue Star Bazaar offers a range of products that meet the tough standards of quality, individuality, style, and value. Product categories include jewelry, scarves, watches, handbags, t-shirts, toys, and home accessories. Find the perfect gift at Blue Star Bazaar, headquartered in Wilton, CT.
To learn about future events and sales and receive a $10 bonus, register here.
Also, be sure to like Blue Star Bazaar on facebook or follow on twitter (@bluestarbazaar) for special deals.