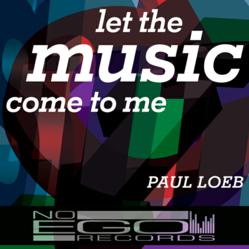 He got back to me the same day, said he checked out my music and loved it!
Hollywood, CA (PRWEB) March 14, 2012
Music producer and DJ Paul Loeb – who has received praise from the likes of Paul Van Dyk, Roger Sanchez, Judge Jules, Mike Rizzo and Larry Tee of Ultra – will be shattering sound systems around the globe with his very own debut studio album titled, "Let The Music Come To Me."
Loeb's release is not your typical dance floor ho-hum. The album is an intelligent combination of fresh house, sexy beats and captivating rhythms that catapults the listener to their very own private dance party. Lyrics like, "Watcha wanna do, boy if you only knew," seem to have already caught the attention of listeners around the world.
Half of the tracks are solo originals, and the other half are collaborations with featured artists like Grammy Award nominee KT Tunstall, Grammy Award-winning composer Eric Whitacre, and Billboard Top 40 Dance artist Kelsey B. On working with Eric Whitacre, one of the highlights of his career so far, Paul said, "He got back to me the same day, said he checked out my electro pop music and loved it and to proceed!"
From now until May 1 (Paul's birthday), he will be giving away the first single for free on his website at http://www.PaulLoeb.net. "It's not about the money," said Paul. "It's a track I'm really proud of, and I'm excited to share it with the world. Sure the lyrics and beat have a sense of humor, but there is also some very edgy and musical stuff there."
Electro pop fans can get a free copy of "BASS 2012" - the electro house smash hit from Paul's new album at http://www.PaulLoeb.net.
About Paul Loeb: Paul Loeb is a critically acclaimed electro pop music producer and DJ who has released tracks and remixes for several labels, including his own imprint No Ego Records. His work has been featured in films such as "Joe and MJ" and "Mariah Everyday Ordinarily." He has performed at legendary Hollywood venues such as Avalon and The Roxy.