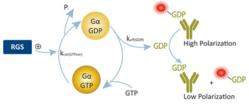 Madison, WI (PRWEB) March 15, 2012
BellBrook Labs announced today that their RGScreen™ Assay technology for detecting "regulator of G-protein signaling" (RGS) protein activity, can be used to identify inhibitors of the RGS4 protein, which was identified in a groundbreaking new study as a promising target for Parkinson's disease. The RGScreen™ platform combines genetically engineered G proteins with BellBrook's Transcreener® GDP Assay.
In a paper published last month in Neuron, investigators Anatol Kreitzer and Talia Lerner, at UCSF's Gladstone Institute showed that knocking out the RGS4 protein, which normally helps regulate neural activity in the striatum, alleviated the aberrant motor control symptoms in dopamine-deficient mice used to model for Parkinson's disease (Neuron 73:347-59). New therapeutic targets for Parkinson's disease are badly needed, as the benefits of current drugs that act by increasing dopamine levels, or mimicking its effects, are almost always transient. The potential for developing drugs that target the RGS4 protein, and thus act by a completely different mechanism, is an exciting possibility that deserves exploration.
However, until very recently, efforts to screen for RGS protein inhibitors were largely unproductive, in part because there were no RGS protein assay methods for measuring functional activity that could be used in an HTS format. BellBrook scientists and collaborators in David Siderovski's laboratory at the University of North Carolina School of Medicine recently overcame a longstanding hurdle to screening for inhibitors of RGS4 and other RGS proteins by developing proprietary Gα protein variants that enable direct detection of RGS catalytic activity (J Biomol Screen 14:1195-206) using BellBrook's Transcreener® GDP Assay. RGS proteins attenuate GPCR signaling by acting as "GTPase-accelerating proteins" (GAP) for Gα proteins. The increased Gα GTPase activity is undetectable in normal Gα proteins, but it is unmasked by two synergistic mutations in BellBrook's modified Gα proteins. The RGS4 protein was used as a model for the BellBrook/UNC studies, thus the novel Parkinson's disease target has already been validated for HTS in BellBrook's RGScreen™ assay.
BellBrook began providing the RGScreen™ assay technology as a service in April of 2011, and has successfully developed and transferred assays to pharma partners interested in other RGS proteins; however, thus far none of them have been focused on the RGS4 protein. The company will soon offer a full line of RGS proteins and modified Gα proteins for drug discovery and basic research focused on this exciting emerging target family.
About BellBrook Labs. BellBrook Labs, LLC develops detection reagents and microfluidic devices that accelerate the discovery of more effective therapies for cancer and other debilitating diseases. Transcreener® is a patented high throughput screening assay platform that was introduced in 2005 and is used to identify inhibitors for kinases and other types of protein drug targets. The iuvo™ Microconduit Array technology and assay screening service is a line of unique microscale devices for miniaturization and automation of advanced cell models that are more representative of human physiology. Visit BellBrook's website for more information: http://www.bellbrooklabs.com.