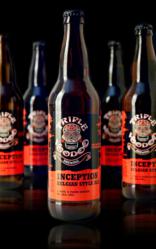 We have become very popular in the Bay Area, and we will soon be available in Southern California
San Francisco, CA (PRWEB) March 14, 2012
It's probably no surprise that the holiday people most associate with beer drinking is St. Patrick's Day. San Francisco craft brewer Triple Voodoo is making it easy for craft beer aficionados celebrate the holiday with its rare, special brews by using the website's Beer Locator, available at the following link: http://www.triplevoodoobrewing.com/TripleVoodoo/faces/FindUs.xhtml.
"St. Patrick's Day is the beer drinkers' holiday, if you are not into drinking green beer then we have an alternative," said Greg Kitchen, co-founder of Triple Voodoo. "To find a leprechaun's pot of gold this St. Patrick's Day, keep your eyes peeled for a rainbow—but if you want to enjoy exceptional craft beer in the Bay Area, go to the Beer Locator on our website."
Triple Voodoo's year-round brew, Inception Belgian Style Ale (8% ABV), is bright and clear, so it quickly turns shamrock green by just adding a drop of green food coloring. Its flavor profile contains a solid malty backbone and starts with sharp alcohol note, a twist of black currant in the center, and finishes clean. This unique profile was achieved using a special hop varietal, which makes it reminiscent of an IPA and gives it uniquely California characteristics.
"We have become very popular in the Bay Area, and we will soon be available in Southern California," said Greg. "We are pretty much sold out of our SF Beer Week seasonal beers. However, rumor has it that there may be some still available at our tap locations in North Beach this weekend. The Triple Voodoo crew will be hanging out there, so come and find us!"
Craft brews are increasingly popular across the country. Gene Simmons, bass player for the rock band Kiss, just announced he is opening a rock-themed restaurant called Rock & Brews that will replicate the atmosphere of a rock concert and emphasize craft beer.
For more information about the Triple Voodoo Beer Finder or any of Triple Voodoo Brewing's products, please call (415) 390-2012 or visit them on the web at triplevoodoobrewing.com.
About Triple Voodoo Brewing
Triple Voodoo Brewing is a San Francisco Bay Area craft brewery that is dedicated to three unwavering principles: a passion for creating the extraordinary, a desire to share those creations with the world, and an ultimate goal to help make the world a better place for everyone.