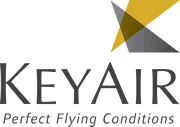 Our managed clients and tenants will directly benefit from having a provider of all levels of maintenance, inspections and installations right here in the Northeast
Oxford, CT (PRWEB) March 14, 2012
Key Air, a leading national provider of worldwide private jet charter, best-in-class aircraft management and FBO services is pleased to announce it has recently entered into a Memorandum of Understanding with Pentastar Aviation for an East Coast maintenance base and related support services. Pentastar Aviation is a well known provider of maintenance services that include heavy inspections, structural repairs and modifications, as well as avionics/systems installations. The planned strategic alliance will provide for the opening of a Pentastar Aviation-operated repair station to be located at Key Air's expansive, state-of-the-art FBO facility at Waterbury-Oxford Airport (OXC). The MOU, commencing on May 1, 2012, affords Key Air's managed clients and FBO tenants a broader array of services than previously available.
"We are excited about our alliance with Pentastar. They are a great national brand known for their quality maintenance services and we are pleased to have them open a maintenance center at our Waterbury-Oxford FBO," states Bob Marinace, President and CEO of Key Air. "Our managed clients and tenants will directly benefit from having a provider of all levels of maintenance, inspections and installations right here in the Northeast."
Aircraft based locally to the Waterbury-Oxford Airport, as well as Key Air's managed fleet will be offered preferred rates for services performed at both the new Pentastar location as well as their headquarters operations in greater Detroit. Pentastar Aviation and Key Air expect to announce finalization of their alliance, as well as the timetable for launching the new Pentastar-OXC facility, later this spring.
"Upon finalization of the agreement with our colleagues at Key Air, we look forward to providing East Coast customers with the technical expertise, passionate customer focus and attention to detail that have made Pentastar's maintenance, repair and avionics services so trusted in our industry." added Edsel B. Ford II, Pentastar Chairman and Owner.
About Key Air
For over 25 years, Key Air has been an industry leader in aircraft management, worldwide private jet charter and FBO services. Key Air's successful remote aircraft management model extends to nine locations nationwide. Key Air also has Fixed Base Operations and private aviation terminal space in strategic locations nationwide to provide a seamless private air travel experience. With convenient proximity to major U.S. cities like New York, Boston and Minneapolis-St. Paul, Key Air can deliver a more efficient and streamlined alternative to the often congested airports in each of these locations. Key Air's FBO facilities include: Key Air NY Metro (OXC) in Oxford, CT; and Key Air Twin Cities (ANE) just outside Minneapolis-St. Paul, MN.
About Pentastar Aviation
For nearly 50 years, Pentastar Aviation has been a leader in the world of business aviation. Pentastar Aviation provides award-winning aircraft maintenance, aircraft management services, aviation advisors, avionics design/installation/repair and aircraft charter through Pentastar Aviation Charter, Inc. Pentastar's repair station received Airframe Class 3 and 4 Ratings from the FAA in January 2009 and boasts one of the most expansive and well-equipped facilities in the nation. Pentastar's world-class FBOs at Oakland County International and Van Nuys Airports provide exceptional customer service and amenities to regional, continental and global travelers. Both FBO locations are proud to offer Avfuel branded fuels.
For more information about Key Air and its offerings, contact 1.888.KEYAIR.1 or visit http://www.KeyAir.com.