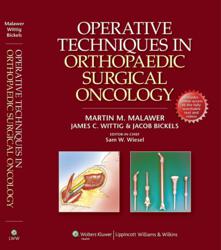 The book includes an emphasis on limb sparing surgery, utilizing complex surgical techniques and the treatment of benign bone tumors and metastatic bone cancer. Not only is it a great primer for those uninitiated in the world of sarcoma surgery but also a
New York, NY (PRWEB) March 15, 2012
Leading Orthopedic Oncologist James C. Wittig, MD, along with Martin Malawar, MD; and Jacob Bickels, MD, have co-authored Operative Techniques in Orthopedic Surgical Oncology, the third book in a series published by Lippincott Williams & Wilkins. The 416-page volume documents and details the progress and innovations made in surgical techniques in the field of Orthopedic Oncology. The reference book is intended to be a handbook for Orthopedic Surgeons in all stages of their schooling and career and provides an ideal companion for those undertaking the complex care and treatment of patients afflicted with bone and soft tissue sarcomas as well as other types of benign musculoskeletal tumors.
Operative Techniques in Orthopaedic Surgical Oncology provides full-color, step-by-step explanations of all operative procedures in orthopaedic oncology. "We developed this book to provide orthopedic surgeons and other healthcare professionals a comprehensive guide on the surgical treatment for bone and soft tissue sarcomas," said Dr. Wittig. "The book includes an emphasis on limb sparing surgery, utilizing complex surgical techniques and the treatment of benign bone tumors and metastatic bone cancer. Not only is it a great primer for those uninitiated in the world of sarcoma surgery but also a detailed supplement for sarcoma surgeons looking to expand their expertise." notes co-author James C. Wittig, MD, "this particular volume is unique in its simple presentations and visual format using colored illustrations and intraoperative photographs." Focusing on the 'mastery of operative techniques' and providing a thorough explanation of how to select the best procedure, how to avoid complications, and what outcomes to expect are what makes this volume a true one-of-kind in the advanced field of orthopedic oncology. "Collaborating with two leading surgeons in the field of Orthopedic Oncology was more than a dynamic opportunity, but a crossroads of talent and compassion as we were able to share our experiences, contemplate the research that was done together in the past and cherish the growth and development of a sub-specialty in orthopedics that has become a specialty in itself."
In addition, the book offers a number of features that make it an excellent reference tool:

A companion website with fully searchable text;
Complete descriptions of the surgical management of tumors involving the shoulder girdle
and upper extremities, spine, pelvic and lower extremities;

25 surgical videos, edited and correlated with most chapters.
Operative Techniques in Orthopaedic Surgical Oncology is published by Wolters Kluwer Lippincott Williams and Wilkins and available to purchase on Amazon.com.
About Dr. Wittig
James C. Wittig, MD, Author, Professor & Lecturer, specializes in limb-sparing surgery; pediatric and adult bone and soft tissue sarcomas; benign musculoskeletal tumors; metastatic cancers as well as complex hip and knee replacement surgery. He also has special expertise with regard to tumors that affect the shoulder girdle and scapula. Currently, Dr. Wittig is Associate Professor of Orthopedic Surgery, Chief of Pediatric and Adult Orthopedic Oncology and the Sarcoma Program at Mount Sinai Medical Center in New York City. Office within the Faculty Practice Suites, 5 East 98th Street, 9th Floor. as well as Chief, Orthopedic Oncology and Director, Sarcoma Section of the John Theurer Cancer Center, Hackensack University Medical Center. Hackensack office located at Continental Plaza, 433 Hackensack Avenue, 2nd Floor, Hackensack, New Jersey. He is a member of the American Academy of Orthopaedic Surgeons; New York State Society of Orthopaedic Surgeons, Inc.; and the Medical Society of New Jersey. He has published over 90 educational materials ranging from original reports, abstracts, videos and articles in the following publications: Clinical Orthopedics and Related Research, The Journal of the American College of Surgeons, American Family Physician, Journal of Arthroplasty, Radiology and Journal of Bone and Joint Surgery. He is also a prominent lecturer in the field of Orthopaedic Surgery throughout the nation. To schedule a consultation or speaking engagement, contact Dr. Wittig via his office in NYC at 212-241-1807, by email DrJamesWittig at gmail.com or visit http://www.TumorSurgery.org.