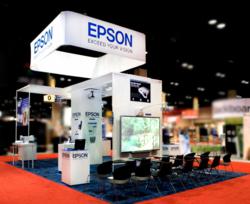 Professional Images Photography is the leader in Tradeshow and Exhibitor Photography services.
San Francisco, CA (PRWEB) March 14, 2012
Recently at the Moscone Convention Center in San Francisco Professional Images Photography was busy with a new photography service for Tradeshow Photography and Exhibitor Photography. During the medical convention on the tradeshow floor, Joseph Rodriguez owner of Professional Images Photography was busy going from one exhibit to the next getting the different angles of the customer's booth.
Convention Photography, Event Photography and Onsite Printing Photography is what Professional Images Photography is known around the country but fast becoming known is the new Tradeshow Photography and Exhibitor photography service that sets his company apart.
Tradeshow photography is not simply taking a photo of a booth and printing out a picture. There is a lot to prepare and having the right equipment and more importantly knowledge and a unique style keeps the business opportunities coming. The new service blends digital photography with architectural photography and wireless technology. Many photographers use just a tripod and camera with a flash or two. Professional Images now goes beyond the norm to offer tethered shooting of each booth with real time upload of images going back to the studio. This allows for faster turnaround of digital images to be edited and delivered via Dropbox to client. If the client ordered photos, they are edited and printed same day for overnight delivery.
Professional Images Photography realizes the important of customer service and knows the client satisfaction is key to keeping customers coming back. In addition to the this service many groups also seek Group Photography and Professional Images offers onsite printing up to 8x10's for any size groups with logo and text added at no additional charge. This is a must have for many companies that meet once a year. Prints come out as fast as 7 seconds for a 4x6 or 30 seconds for an 8x10. Another service is Professional headshots, which is a complete turnkey service that provides professional studio lights, choice of color background and onsite laptop to view images to approve and even created a DVD onsite.
About us:
Professional Images Photography is based in San Antonio, TX with offices in Orlando, New York, Houston and now Las Vegas. For more information call 1.888.486.3241