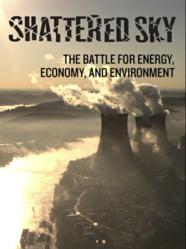 "Leadership is in America's DNA. Action now is essential for our energy, economy, and environment."--Shattered Sky Director, Steve Dorst
Washington, DC (PRWEB) March 15, 2012
The groundbreaking new documentary, "Shattered Sky: The Battle for Energy, Economy, and Environment," makes its world premiere next week at the 20th Environmental Film Festival in the Nation's Capital, which launched yesterday.
For the first time in film, "Shattered Sky" explores how bipartisan perseverance enabled America to lead the world to a history-changing solution to the ozone crisis. Tapping the same can-do spirit, "Shattered Sky" inspires viewers across all backgrounds and political beliefs to come together and tackle today's most pressing energy and climate challenges.
Major American thought leaders are already teaming up with the "Shattered Sky" campaign. "This film reminds us of a time not long ago when we put politics aside and led the world to solve a global environmental challenge," said Larry Schweiger, President and CEO of the National Wildlife Federation. "We must do this again. As the education partner on this important film, NWF is committed to inspiring students to gain the science knowledge and civic engagement skills they will need to confront climate change head-on in the years to come."
Director Steve Dorst is encouraging viewers to hold their elected officials to a higher standard. "Leadership is in America's DNA. Action now is smart for our energy, economy, and environment. We've done it before and we can do it again."
"I look back on the US leadership in securing [the Montreal Protocol ozone] treaty as one of my proudest accomplishments," said George Shultz, President Reagan's Secretary of State. "I urge you to watch this film. It shows what we can do when we actively work together to make a difference."
The film's positive message is already resonating with more than 400,000 people who've joined Shattered Sky's campaign on Facebook, making it the third-largest community for a recent documentary (after Oscar winner "The Cove" and nominee "Food, Inc.").
In addition to its dramatic story, the film features a distinctive visual style: "All of our original footage is either slow motion or time lapse," explained Director and Cinematographer Dan Evans. "The slow-motion footage, primarily of people, symbolizes how we are stuck in time and unable to reach critical decisions on energy and environment that will affect generations to come. The time-lapse footage is a metaphor for how that same environment is changing before our very eyes."
"Shattered Sky" makes its North American premiere at DC's Environmental Film Festival on Sunday, March 25 at 3:30 pm EST at the Carnegie Institution for Science (1530 P Street, NW). A panel discussion will follow, featuring Schweiger, Rolling Stone contributing editor Jeff Goodell, Dorst, Evans, and moderator Sunshine Menezes, executive director of the Metcalf Institute for Marine and Environmental Reporting at the University of Rhode Island.
Following its debut, "Shattered Sky" will play at film festivals in the US and abroad. PBS TV distribution launches nationally in September, with Maryland Public Television as sponsoring station. The release coincides with the 25th anniversary of the Montreal Protocol international ozone treaty.
Film fest attendees and fans can join the Shattered Sky campaign and stay on top of developments via Facebook and Twitter.
For more information:
Media: Caryn Donohue, Caryn(dot)E(dot)Donohue(at)gmail(dot)com
Facebook: http://fb.com/ShatteredSkyMovie
Twitter: @ShatteredSkyDoc
Contact Director Steve Dorst: steve(at)dorstmediaworks(dot)com
Downloadable press kit: http://www.shatteredsky.com/press-kit.pdf
About Director Steve Dorst
Steve Dorst is an independent filmmaker based in Washington, DC, who directs, produces, and shoots for TV and film. Shattered Sky: The Battle for Energy, Economy, and Environment is his second independent feature. He also made the award-winning documentary Volcanic Sprint (2008) in collaboration with Dan Evans, which played in festivals worldwide and is currently repped globally by American Public Television. Dorst edits in English, Spanish, and French, and has led field production teams on five continents.
About Director Dan Evans
Dan Evans is an award-winning filmmaker, producer, and editor based in Washington, DC. He regularly works with National Geographic Television and Bloomberg Television, while also maintaining a passion for producing short films for nonprofit organizations such as the International Crisis Group and the UN Refugee Agency. Dan holds a Master's degree in international affairs from the George Washington University. "Shattered Sky," which will air nationally on public television, is Dan's second collaboration with Steve Dorst, following their work together on the documentary film Volcanic Sprint for American Public Television.
# # #