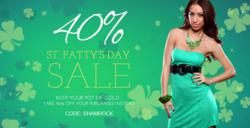 Los Angeles,CA (PRWEB) March 14, 2012
Saint Patrick's Day heralds the joys of spring which is symbolized by everything green on this day . In preparation for this day AMIClubwear announces a special 2-day sale which offers 40% off already discounted prices. The company wants to encourage festive shoppers to browse their extensive inventory of sexy shoes , fun rompers and party dresses with exciting pricing and an impressive 40% discount.
Green is the color of the season and AMIclubwear wants to save your green even when going on a shopping spree. Christine, an avid AMIclubwear shopper, goes on to declare that she waits for these special sales from the AMI store to stock up on hot fashion items . She declares "Where else can you get several club outfits for under $50". She goes on to proudly exclaim that she had several shopping sprees this year from amiclubwear.com. One of these hauls she way able to get 4 great shoes for under $50. She tells us "Where else can you get that ? My cappucino costs more than the pair of wedges that I absolutely love".
For more on their green collection visit this green dress link . Visit AMIclubwear.com for the latest fashion at great prices.