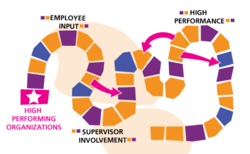 TNS research data shows that 76% of employees report that little to no action was taken based upon the last survey administration
Chicago, IL (PRWEB) March 15, 2012
TNS Employee Insights research shows that large organizations often face challenges related to accountability during the action planning stage of the survey process. Recent survey data from TNS shows that 76 percent of employees report that little to no action was taken based upon the last survey administration. To help human resource professionals rise above the norm, TNS Consulting releases three tips from industry leading global HR professionals that can help focus survey based improvement efforts and increase accountability during the action planning process.
1. Engage your Employees (in Action Planning): It is essential to have a defined game plan for involving all levels of employees in the post survey action planning and improvement efforts. TNS research and consulting experience shows that increased non-management employee input is linked with higher performance. The importance of both supervisor involvement and employee input is supported by TNS normative data, showing high performing organizations are consistently eight to ten percent higher in ratings related to supervisor involvement and employee input.
2. Be on Time: Organizations must capitalize on the "buzz" often associated with the initial survey findings and build momentum by immediately implementing the action planning process once the survey results are released. TNS research shows that there is a 30-45 day window for post survey administration in order to achieve optimal employee participation and focused improvement efforts. TNS recommends creating a timeline early on and sticking to it. "Skipping steps creates only the illusion of speed and never produces satisfactory results, and making critical mistakes in any of the phases can have a devastating impact, slowing momentum and negating hard-won gains," says Harvard's Dr. John Kotter. These will enable organizations to increase the value of the survey project by taking advantage of increased participation.
3. Maximize Impact: Action plans should be focused on doing less of what doesn't matter and more of what makes a positive difference. The key is "management & employee" involvement and ownership of the action planning improvement efforts. TNS research shows that when organizations utilize a consultant's expertise to analyze survey data and focus action planning efforts, deeper insights develop leading to improved engagement. Additionally, the use of an online action planning system can help maximize communication, collaboration, accountability and help develop a feedback rich culture. The "ownership" of the entire improvement process by both managers and employees is a key driver to making positive changes.
According to Blessing White's 2011 employee engagement research, most employees have a real desire to contribute to something bigger than themselves. Managers should help employees understand the "why" behind what they're doing and give them the freedom to make choices and decisions about how they do it. As a result, those individual employees will feel empowered to contribute at a higher level, take ownership of their work and buy into an effective action planning model.
Experience shows that leaders and employees who are engaged will take ownership of improvement efforts, work harder and are less likely to leave the organization. To achieve high performance, organizations must properly utilize the productive energy that drives employee engagement and overall profitability. TNS normative data shows that 65 percent of employees in high performing organizations believe that management will take actions based on the survey results, compared to only 39 percent in low performing organizations. Encouraging employee participation and holding both managers and employees accountable for survey based improvement efforts ensures an understanding and appreciation of the survey results, active participation in quality improvements and positive individual, team and organizational changes.
Part 2 of this research and more tips from HR Professionals at the Engagement Summit will be released each Wednesday during March and April on the TNS Website.
Research and Statistics:
Publishers, Writers, Bloggers: TNS provides employee research statistics and research free of charge for use in your publications. Click here to make a request.
About TNS:
TNS Employee Insights – Measuring and Inspiring Higher Performance
We lead our clients to higher performance and growth through employee engagement and retention, brand and customer experience. Delivering innovative thinking and insights to organizations across the globe.
http://www.TNSEmployeeInsights.com
Engagement Summit Information - http://www.EngagementSummit2012.com
On February 29th 2012 leaders, thinkers and visionaries from world renowned global companies met in NYC to explore and advance engagement in their organizations. Led by and designed for Human Resources, OD, Talent Management, and Communications professionals, attendees networked with peers, learned from real life experiences of Fortune 500 and Global 1000 professionals, discussed solutions to challenges with experts, and more!