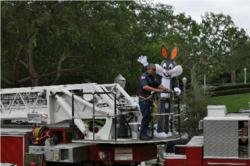 Fullerton, California (PRWEB) March 16, 2012
With over 12,000 eggs, the Fullerton South Rotary Annual Egg Hunt is the largest Egg Hunt in Orange County. Admission is free and the hunt features prizes in every egg along with an opportunity to win a $500 scholarship. Find one of ten eggs with a golden ticket to enter the raffle after the Easter Egg Hunt for the $500 scholarship. Children pre-school through 4th grade are eligible and must be present to win. The scholarship is sponsored by Farmers and Merchants Bank® and Fullerton South Rotary.
The Fullerton South Rotary Club has been hosting their Annual Easter Egg Hunt since 1990. The Rotary Club of Fullerton South is an organization of volunteers representing a cross-section of local business and professional leaders, living and/or employed in Fullerton, who work on a variety of local and international projects to improve the quality of life in their home and world communities.
The Fullerton South Rotary Club meets monthly on Tuesdays at noon at Coyote Hills Country Club in Fullerton. Guests of members are welcome to attend luncheons, and membership inquiries are encouraged. The Club is on Facebook at facebook.com/FullertonSouthRotary