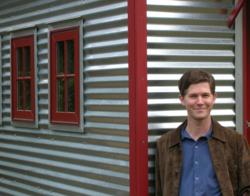 A typical Tumbleweed Tiny House produces only 4 tons of greenhouse gases during a typical Minnesota winter compared to the average American home that emits 18 tons per year.
Indianapolis, IN (PRWEB) March 14, 2012
Jay Shafer, founder of the Tumbleweed Tiny House Company and a recognized leader in the tiny house movement, is a featured speaker in the Earth Project Series at Butler University on March 20, 2012.
Shafer will discuss the ecological benefits of living in tiny homes and reducing the carbon footprint in urban areas. The tiny house movement is highlighted in the Earth Project Series which explores both the local and global phenomena that are fundamentally shaping life on this planet. Shafer, a designer who specializes in sustainable architecture and urban planning, conceived "tiny houses" in 1997 for economical and ecological reasons.
The event is free and open to the public. The talk begins at 5:30 p.m., at Johnson Room, Robertson Hall, Butler University. A book signing and tiny house tour will follow the event.
About Jay Shafer: Jay Shafer is recognized as an expert in small living. He is a designer specializing in sustainable architecture and urban planning. He has lectured extensively on these subjects for such venues as the Eco-Dwelling program at New College, the Boston Architectural Center, and the University of Iowa's School of Art and Art History where he served as Adjunct Assistant Professor for more than a decade.
About Tumbleweed Tiny House Company: Tumbleweed Tiny House Company isn't just a business, it is a movement! With over twenty tiny house plans, the company designs homes that range from 65 square feet to 874 square feet with a socially responsible platform. For more information on the company and Jay Shafer or to view the homes, please visit: http://www.tumbleweedhouses.com/houses/ .
Bridget Thornton
Tumbleweed Tiny House Company
(877) 331-8469