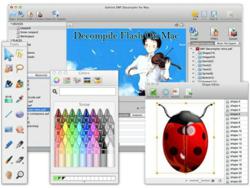 Convert SWF to FLA/FLEX/HTML5 with friendly interactive UI
Wuhan, Hubei Province (PRWEB) March 15, 2012
SourceTec released the new version of Sothink SWF Decompiler for Mac —Sothink SWF Decompiler for Mac 7.0. The new version supports flash shape editing while decompiling.
Mac Flash decompiler users might be bothered by the dissatisfied shape element when they decompile SWF. They probably need to replace the original image/text/sound to make their own brand new Flash quickly and then export to HTML5.
That's why SourceTec Software Co., Ltd released the SWF Decompiler for Mac 7.0, which combines SWF decompiler and editor together. With this new version of SWF Decompiler for Mac, users can directly edit SWF in new WYSIWYG (what you see is what you get) Shape Editor.
This shape editor was added in shape panel. Users are able to edit shape with powerful ability for shape editing, color choosing and format import or export as below:

First, this new version of Flash decoder on Mac enables flash users to edit SWF at the most convenience. They are able to add, delete, copy, paste, select, transform, group, align shape element in the preview window.
Second, users can set single color, gradient color or bitmap fill color for the enclosed area or the border line of the selected shape.
Except for this newly added Shape Editor, SWF Decompiler for Mac 7.0 also has updating in other aspects:
Enhance SWF to HTML5 converting function.
Support Flash CS 5.5.
With the improved functions, SWF Decompiler for Mac 7.0 provides better interactive experience in flash decompiling, flash to HTML5 converting and SWF elements editing. This Mac Flash Decompiler also offers a free add-on SWF catcher to capture and download online SWF, helping users collect great SWF through web easy and fast. Moreover, SourceTec also provides Win user, the updated version of SWF Decompiler 7.1.
Users can find more details of this new version of Mac Flash Decompiler on the YouTube Video.
About SourceTec Software Co., LTD.
Established in July 1997, SourceTec Software Co., LTD. is one of the most reputable and outstanding shareware and freeware providers in the world. It specializes in Flash authoring tools, Multimedia, Video and DVD software with the vision of driving better user experience. SourceTec Software always sticks to creatively building and delivering prominent service for worldwide range of customers. And Sothink.com is one of its subordinate official sites devoting into professional Flash authoring products and services.
Products or service names mentioned herein are the trademarks of their respective owners.