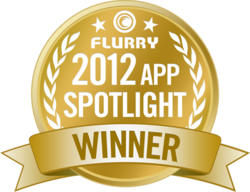 Flurry was blown away by the quality of apps submitted this year, which impact how hundreds of millions of people shop, work, play, learn, discover and communicate each day on their smart phones and tablets.
San Francisco, CA (PRWEB) March 14, 2012
Flurry, a company that helps developers make better apps, grow their app audience and monetize their business, today announced the winners at its inaugural App Spotlight Awards at SXSW. Each winner starred in a launch party hosted by Flurry at the Alcatel-Lucent Trend Lounge, interviewed by press partners, VentureBeat and Marshall Kirkpatrick, to discuss and demonstrate their application.
The Flurry App Spotlight Awards, created to bring attention to up-and-coming apps, received over 700 submissions. Applicants were evaluated based on innovation, market potential, product polish and business scalability. From the top twenty finalists announced last week, Flurry selected the winners after additionally conducting interviews with executives from among the finalists.
"Flurry was blown away by the quality of apps submitted this year, which impact how hundreds of millions of people shop, work, play, learn, discover and communicate each day on their smart phones and tablets," said Simon Khalaf, Flurry president and chief executive officer. "We extend our congratulations to Red Stamp, Fooducate and OMGPOP who created truly superlative apps."
The Flurry App Spotlight Winners
Red Stamp by Red Stamp
Why Flurry Selected Red Stamp: While Red Stamp can increase the value of nearly every form of digital communication, adding a layer of style and panache, it's their ability to deliver emotion through their product that caught our attention. Few apps can easily, conveniently and effectively enable a user to show someone they're thinking about them in a meaningful way, like Red Stamp. Their user growth and retention are formidable. When interviewing their senior management team, we were impressed with their vision for the company, including big, upcoming updates to their service this March. Finally, and what helped separate them from others, was their full embracing of mobile apps, having completed a full pivot of the company in Q4 of last year to focus exclusively on the mobile. They've done so in a powerful way.
"We have thrived on Flurry analytics since we launched the Red Stamp app. So to be selected by them as a Flurry App Spotlight winner at SXSW is thrilling," said Red Stamp co-founder and CEO, Erin Newkirk. "To be among such great company as Fooducate and Draw Something is a true honor."
Fooducate by Fooducate
Why Flurry Selected Fooducate: Fooducate marries the world of consumer packaged goods retail with mobile apps, helping people make better decisions about food items they're buying. Users scan a product barcode, see its nutrition grade, brief explanation, and also healthier alternatives. Having recently added robust shopping list integration and the ability for users to contribute product content into the food database, has helped Fooducate become even more compelling.
Fooducate's unprecedented retention rates for users helped separate them from the pack. The company is handily scaling a large, loyal audience. Interviewing their CEO, their plans for helping special segments of the population are ambitious, smart and should further drive their growth.
Finally, what sealed a victory for Fooducate was their power to change consumer retail purchase decisions in the moment. 80% of Fooducate users have purchased a healthier alternative at least once. And 50% of the app users bought a product they never had before, simply because of Fooducate. Now that's power.
"We are honored to be selected as a Flurry Spotlight winner," said Fooducate CEO, Hemi Weingarten. "Fooducate is on a mission to help America eat better, and the exposure at SXSW will certainly help."
Draw Something by OMGPOP
Why Flurry Selected Draw Something: When Flurry first evaluated this soon-to-be hit game, about three weeks ago, it hadn't yet started to dominate the App Store. However, it was immediately clear from using the app among Flurry colleagues that OMGPOP had found itself a hit like very few others in the history of mobile gaming. Draw Something is a modern twist on the classic Pictionary-style game, offering cooperative turn-based game play. It's one of the first truly social mobile games with ubiquitous appeal. Importantly, the game has become a catalyst for creativity and communication, generating what can best be described as a full-blown meme. Players share what are oftentimes hilarious and detailed drawings on social networks like Twitter and Instagram, which additionally drives virality. The only game Flurry believes that has ever ranked #1 Top Paid, #1 Top Free, and #1 Top Grossing app at the same time was Rovio's Angry Birds. OMGPOP achieved this in just the last two weeks, and in an App Store that is more crowded and competitive than ever. This is the definition of a hit.
"It's great to be recognized by Flurry at SXSW," said OMGPOP CRO, Wilson Kriegel. "It's a reflection of what the game represents to our community and the hard work of our team. 20 million installs in 30 days: it's just the beginning of what opportunities are ahead for the game."
About Flurry
Flurry increases the size and value of mobile application audiences. Flurry Analytics is the world's leading app solution. Flurry AppCircle is a leading performance-based traffic acquisition and audience monetization network for apps. Newly launched, Flurry AppSpot is the first big data-powered app advertising platform with advanced targeting and free unlimited ad serving and mediation. More than 160,000 applications across iOS, Android, Blackberry, Windows Phone, J2ME and HTML5 use Flurry services. Each month, Flurry tracks over 30 billion anonymous, aggregated end-user application sessions across more than 500 million devices. Flurry is venture-backed by Draper Fisher Jurvetson, InterWest Partners, Union Square Ventures, Menlo Ventures and First Round Capital. The company has offices in San Francisco, New York and London.
About OMGPOP
OMGPOP is a leading developer and publisher of social and mobile games focused on bringing people together. Its latest mobile hit, Draw Something soared to the top of the charts reaching #1 in several App Store and Android Market categories, including: #1 Overall Paid and Free App, #1 Game, and #1 Word Game in more than 75 countries worldwide. OMGPOP was founded in 2006 and is headquartered in New York, NY.
About Fooducate
Fooducate powers food purchase decisions whenever and wherever they are made. The company's goal is to help shoppers choose healthy, tasty, and affordable food, and to affect positive change on the food industry. Fooducate's tools include free apps (Android, iPhone), online web app, and a daily blog. Please visit Fooducate for more information.
About Red Stamp
Red Stamp believes sending notes, invitations and announcements is not only good form, but is also just plain nice. With the rise of social and mobile everything, there are so many more opportunities to communicate. Faster. Easier. Better. Our charge is to blend the thrill of modern technology with the grace of stylish correspondence, elevating everyday communication. With over 500 fresh, modern designs full of vibrant colors and photo insert options, correspondence can now be created and sent directly from your iPhone, iPad and iPod Touch in a variety of ways: text, tweet, email, Facebook and paper postcards. It's effortless elegance literally at your fingertips. Making relationships stronger, that's what we do.
Note to editors
SXSW, Alcatel-Lucent, iOS, iPhone, iPad, Android, Blackberry, Windows Phone, HTML5 and J2ME are trademarks of their respective companies. All other company and product names may be trademarks of the companies with which they are associated.
Media contact:
Peter Farago
VP Marketing
Flurry, Inc.
peter(at)flurry(dot)com
+1-510-461-4450