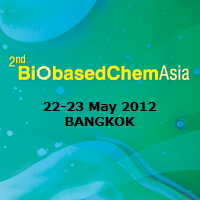 As a curtain raiser to the 2nd BiobasedChem Asia, to be held at Bangkok, CMT unveils an exclusive white paper on " The emergence of bio-based materials and chemicals- the Asian opportunity" produced in collaboration with Lux Research.
Bangkok, Thailand (PRWEB) March 20, 2012
The 6 paged white paper outlines all about innovation and growth in the bio-based industry in Asia, key growth factors in the industry, and the leading companies driving the penetration of Biobased Chemicals globally, future developments and opportunities for partnership, investment, or collaboration. This exclusive publication is being released as a reference material and sampling of the presentations and discussions delegates can look forward to hence value-add to their experience at the upcoming summit.
"The emergence of bio-based materials and chemicals - the Asian opportunity" is produced for the benefit of Asian companies looking to develop or commercialize novel technologies & capitalize on the favorable bio-based market conditions in Asia, non-Asian technology developers seeking access to the growing Asian bio-based materials and chemicals market, Regulators, financiers, and corporations looking to stay abreast on the driving trends and leading innovators in the global Biobased Chemicals industry. In short, all key stakeholders in the entire Bio- Based value chain will find this paper a useful reference tool for their future new ventures.
To obtain a copy of the white paper simply visit the official event page here. For any other enquiries, one may contact Ms. Grace Oh at (65) 6346 9147.
About 2nd BiobasedChem Asia:
CMT together with official host & reception sponsor PTT Global Chemical will host 2nd BiobasedChem Asia this 22- 23 May 2012 in Bangkok. The conference aims to reflect on availability of current and novel feedstock, provide snapshot of current start-ups, economics and efficiency of pretreatment & conversion technologies while bringing together complete spectrum of stakeholders behind the promising Biobased Chemicals industry. To complement the discussion sessions 2 Separately Bookable Post Conference Workshops on Biobased Feedstock Competitiveness & Conversion Economics and on Sweet Sorghum Cultivation & Pretreatment have also been added to the program.
Visit http://www.cmtevents.com/eventschedule.aspx?ev=120514& to access the Conference agenda.