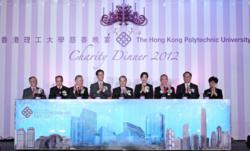 (PRWEB) March 14, 2012
This year, about 400 guests have rendered support to the "PolyU Charity Dinner 2012". Over HK$5.5 million was raised during the dinner held last Friday (9 March) at Hotel ICON. The net proceeds will be used to support the Community Service Campaign – "PolyU Serves" launched by The Hong Kong Polytechnic University (PolyU) so that more new initiatives could be undertaken by its students and staff in the future. The "PolyU Charity Dinner 2012" was not only one of the celebratory activities of PolyU's 75th anniversary, but also a major fund-raising activity of the University.
The Charity Dinner was officially opened by the Honourable Matthew Cheung Kin-chung, Secretary for Labour and Welfare, Government of The Hong Kong Special Administrative Region; Miss Cally Kwong, Chairlady of the Organizing Committee of "PolyU Charity Dinner 2012" and Managing Director of Cally K Jewellery Limited; Dr Ng Tat-lun, Deputy Chairman of PolyU Council; Professor Roy Chung Chi-ping and Dr Yip Kit-chuen, Honourable Chairmen of the Organizing Committee of "PolyU Charity Dinner 2012"; and Professor Timothy W. Tong, PolyU President.
Speaking at the occasion, Professor Tong expressed his heartfelt gratitude to all members of the Organizing Committee for their ardent support. He gave special thanks to Miss Cally Kwong as she has generously supported the development of PolyU by taking up the chairmanship of Charity Dinners for three consecutive terms.
A highlight of the dinner was the charity auction of seven items donated by friends of PolyU. Among the auction items, "A Life with Palms Joined" by Master Hsing Yun and the Blessed Red Ruby Bracelet Pair were donated by Miss Cally Kwong; "White Nephrite Jade Hound", "Tibetan Thangka Painting of Shakyamuni" and "Famille Rose Ceramic Figurine of 'The Eight Immortals'" were donated by Mrs Lisa Cheung Chung Lai-seung; "Plum Blossom" was donated by Mr Chen Kezhi, a first-class national oil painter; and a "Standing Horse" by the late Master Xu Beihong (an authorized replica with serial number "075/200" in celebration of PolyU's 75th anniversary) was donated by Ms Liao Jingwen, wife of the late Master Xu and Chief of Xu Beihong Museum.
In addition, various artists and singers also joined the dinner as masters of ceremonies and performing guests. They included Ms Heidi Chu, Miss Michelle Lo, Mr Stephen Chan, Mr Leo Ku, Mr Bennett Pang and his Taka Band. Famous band Grasshopper also performed "Glamorous Stage" and danced with eight PolyU students whose outfits were designed by the graduates of PolyU's Institute of Textiles and Clothing.
To further promote the spirit of serving the community through the application of professional knowledge and skills, PolyU will introduce a credit-bearing "service learning" requirement in the new four-year curriculum starting September 2012. In this connection, the "PolyU Serves" Community Service Campaign was launched. It is anticipated that when the service-learning structure is implemented on full scale, PolyU will have around 3,000 students participating in some 70 projects per year.
Press contact: Ms Elisa Chan
Alumni Affairs and Development Office
Tel: (852) 2766 7748