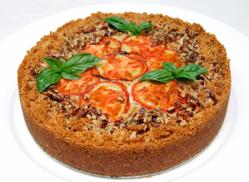 Growing our own fresh, organic greens and herbs is something our customers want and appreciate. We are committed to these healthful, sustainable practices.
College Park, Maryland (PRWEB) March 14, 2012
La Prima Catering, a local company that offers corporate and special events catering as well as a nutritious school lunch program for area schools, has enjoyed a steady harvest of organic greens and herbs from its onsite vegetable garden throughout this mild winter season.
Chef Kyle Vermeulen incorporates the garden's fresh-picked bounty in numerous La Prima recipes.
"Our harvest soup features a generous amount of our pretty Swiss chard, which is great for the texture and look of the dish. We also used plenty of fresh herbs and locally grown butternut squash for this wonderful seasonal dish," says Vermeulon.
"One of our most innovative menu items is a savory Roasted Garlic Pesto Cheesecake," he adds. "This is a torte of parmesan, ricotta and rich cream cheeses, blended with our garden fresh pesto and baked in a golden parmesan crust, accompanied by flat breads and crisp crackers."
Taking full advantage of this winter's milder temperatures, La Prima seasons and garnishes many of its popular recipes with cool-weather greens and herbs, such as rosemary in the Focaccia and sage in many dips. The garden produces enough basil to make pesto that lasts all year.
"Growing our own fresh, organic greens and herbs and supporting other local farmers is something our customers want and appreciate," said Vermuelen. "We are committed to these healthful, sustainable practices in all of our corporate, special events and school lunch program catering."