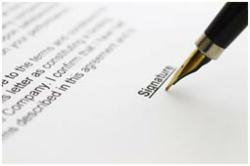 We continually look for ways to become more environmentally friendly.
Stevenage, Hertfordshire (PRWEB UK) 15 March 2012
Businessmagnet the award winning UK business to business Directory have recently introduced a new paperless ordering system for their clients.
Combining Businessmagnets' popular services with Echosign® ordering allows customers to initiate new agreements quickly and efficiently, saving time, money and more importantly wasted paper. Echosign® is the worlds most popular digital signature service designed to streamline ordering processes and reduce paper waste significantly. The already green thinking company Businessmagnet have taken many steps to reduce their carbon foot print over recent years. A local company ServerChoice have aided in these plans by providing some of the most sophisticated energy efficient hosting solutions reducing Businessmagnets power consumption significantly. ServerChoise use green technologies to reduce power usage and their carbon footprint making them an excellent choice for Businessmagnet.
Director, Daniel French says "We continually look for ways to become more environmentally friendly" French continues "Replacing office lighting for more energy efficient versions, ensuring all electronic equipment has power saving enabled and relaying good practice to our employees has seen our energy usage fall despite our expansion. Transitioning to Echosign® was very simple and has already seen big savings on paper and toner related consumables. We also suspect there to be a small reduction in electricity costs as printers remain in standby for longer"
Echosign® is the perfect tool for a company who's time conscious; a simple upload and send then Echosign® takes care of the rest . Echosign® can be accessed via a mobile device and the digital order form can be signed from almost anywhere in the world including mobile phones with a web browser.
Businessmagnet reports that its goal for 2012 is to increase energy efficiency by a further 15%, no small feat for a growing technologically dependant company but quite possible given Businessmagnets past achievements in this area.
More About Businessmagnet
Businessmagnet.co.uk is one of the UK's leading business to business directories. The online directory serves millions of visitors every month searching for business related products and services. The directory lists over 160,000 business to business companies cross referenced in over 70,000 individual product and service indexes.
If you own a business to business company and are based in the UK or Ireland, you can add your company to the directory for free, by clicking here. It's quick and easy to add your business and you can start receiving quality business sales enquiries in a matter of hours.